Bibbulmun Track, Kalamunda to Albany
Details for trail on a map
Multiple access points. The Northern Terminus is at Kalamunda, 24km (30 minutes) east of Perth.
The Southern Terminus is Southern Terminus is next to the Visitor Information Centre, 221 York Street, Albany.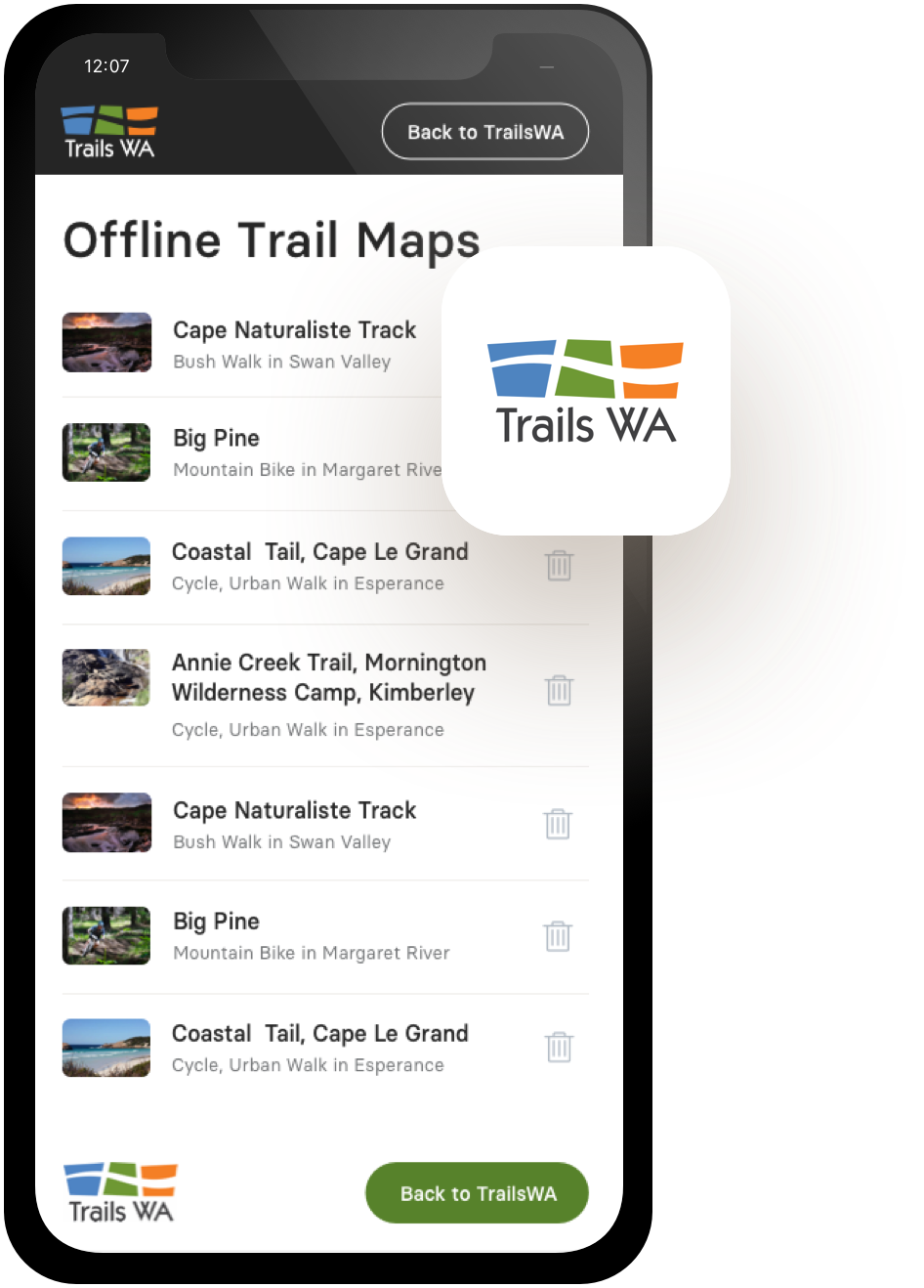 Offline Maps
TrailsWA Now supports Offline Maps. Follow the instructions below to save trail maps to your phone.
Visit trailswa.com.au on your mobile Our Offline Maps will require you to be connected to trailswa.com.au using the device you intend to take on your trip.

Add to Home Screen Save the trailswa.com.au webpage to your home screen.

Find your trail, and Save Offline Via the bookmark saved to your devices home screen, explore our trails and find the one you want - select "Save this map to use offline". You will need to be connected/online at this point.
Trails WA supports the seven principles recommended by Leave No Trace Australia for minimising your impacts when using the trails.
Learn more
About Bibbulmun Track, Kalamunda to Albany
The Track passes through 22 national parks and other reserves. The northern half of the Track is home to large jarrah, marri and wandoo forests only found in this part of Western Australia, while the southern half features ancient karri and tingle forests opening onto the Southern Ocean for spectacular coastal walking where whales can be sighted between June and October. 
The award-winning Track also links some of the State's most scenic and popular attractions including Mundaring Weir, the Gloucester Tree, Valley of the Giants Tree Top Walk, and Mandalay Beach.
Walkers can re-supply or base themselves in any of the towns along the way including Kalamunda, Dwellingup, Collie, Balingup, Pemberton, Northcliffe, Walpole, Denmark and Albany. At the half-way mark, the old mill town of Donnelly River Village offers a truly Australian experience with emus, kangaroos and other wildlife in abundance.
The Track is named after the Bibbulmun Noongar people, an aboriginal group which journeyed on foot over long distances for ceremonies.  The distinctive trails markers depict the Waugal, a symbol of the Rainbow Serpent.
Although the Track is well marked, walkers are advised to use a map and guidebook. The eight water-resistant, full colour maps show car access points, campsites, terrain profiles and distances tables and are available from the Bibbulmun Track Foundation, DPaW offices, equipment stores and some visitor information centres.
Bibbulmun Track campsites
The campsites are in delightful locations and provide a welcome haven at day's end. Facilities include a three-sided sleeping shelter, tent sites, picnic tables, water tank and toilet. Some campsites also have fireplaces but the use of fuel stoves is encouraged.
Distances between campsites range from 10 kilometres in the north to 20 – 25 kilometres in the south.
The independent way…
It's important to plan your walk using the maps. There's lots of useful information under 'Trip Planning' on the Bibbulmun Track website, or contact the Foundation for advice.  The Foundation also offers:
equipment for hire
day walk maps packs (including walk notes for a range of day walks in 8 different areas)
Bibbulmun Track publications and souvenirs
A touch of comfort…
For those who enjoy bushwalking – and their creature comforts – try a Bibbulmun Walking Break.  Enjoy a day on the Track, and return to the comfort of a hot-shower, home cooking and a comfortable bed.  Based around the Track towns, each with their own unique flavour,  these self-drive itineraries range from two to six days.  Each itinerary includes suggestions for day-walks on the Track, as well as interesting sights and attractions to visit, in and around the Track Towns.
Pick one itinerary or join several together to create your own epic, customised Bibbulmun Track holiday adventure.
Guided walks…
A number of tour operators offer guided walks on the Track.  Search on the Tourism WA website or the Accommodation and Services page on the Bibbulmun Track website.
DOWNLOADABLE ROUTE FILES
The KML file depicted on the map may not be the most up-to-date.
Check under LINKS TAB for the most up-to-date downloadable route files for the long trails: Bibbulmun Track, Cape to Cape Track, Munda Biddi Trail.
Bridgetown-Greenbushes Visitor Centre
(08) 9761 1740
154 Hampton Street, Bridgetown WA 6255
Expand your trip and enjoy great businesses nearby
Paddy Pallin Perth
Australia's most experienced and trusted outdoor fitter since 1930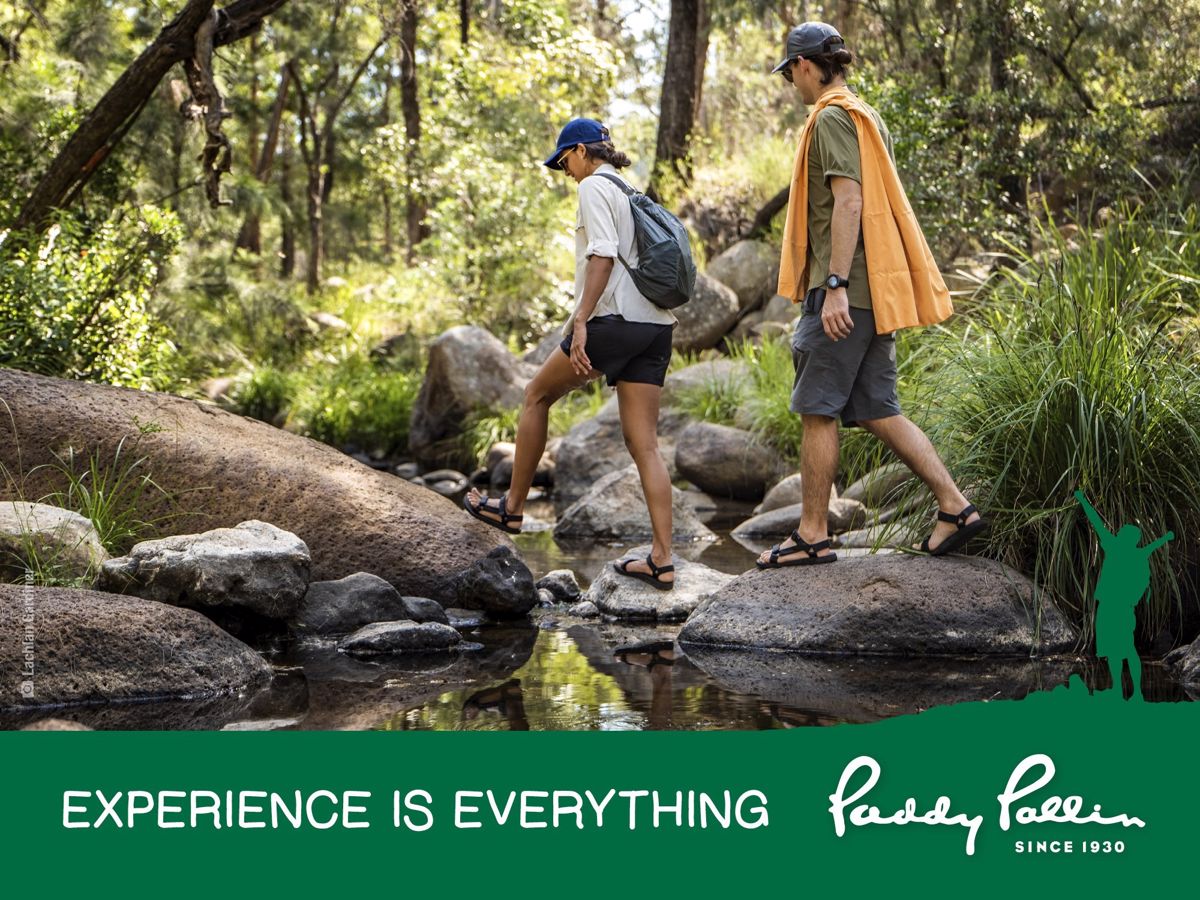 Be trail ready for Bibbulmun Track, Kalamunda to Albany
Here is everything you need to know before visiting this trail.
Time / Duration
6 - 8 weeks end-to-end. Trail can be walked in smaller sections including day walks.
Length
Distance varies depending on section chosen. Anywhere from a short 2km stroll to 1000kms!
What To Pack
Group B (Bushwalks and/or longer trails) required.
What To Pack
Group B (Bushwalks and/or longer trails)
Minimum 2 litres of water per person per day
Sturdy shoes
Sun hat or bike helmet (compulsory in WA)
Sunglasses, sunscreen (30+) and insect repellant
Binoculars and camera (optional)
Map or guide book where suggested
Snacks and/or lunch depending on length of trail
Clothes to suit the activity and potential weather conditions including a water/windproof jacket
First Aid kit
Additional Useful Items
Maps or Guidebooks required. Available from the Bibbulmun Track Foundation, DBCA, visitor information centres listed below and outdoor equipment stores. Additional equipment required for overnight walks. See list on Bibbulmun Track website.
Trail Start
Multiple access points. The Northern Terminus is at Kalamunda, 24km (30 minutes) east of Perth.
Trail End
The Southern Terminus is Southern Terminus is next to the Visitor Information Centre, 221 York Street, Albany.
Bushwalking experience recommended. Tracks may be long, rough and very steep. Directional signage may be limited.
Difficulty Notes
Degree of difficulty varies depending on section and length of Track chosen.
Hazards & Warnings
Conditions on the Track change almost daily. From controlled burns and temporary diversions to bushfires and storm damage - always check the current Track conditions on the DBCA website before embarking on a walk.
Facilities
Assisted wheelchair access to a section of Track into Brookton Campsite only.
Access with assistance for the Disabled
Bicycles Prohibited
Camping
Picnic Area
Public Toilet
Water Access Points
Best time of year
April to December
Trail Access
Road or bus to Kalamunda. Road, bus or air to Albany
Prohibited Items
No pets, bicycles, horses or vehicles


Complete Bibbulmun Track, Kalamunda to Albany to earn badges and points!
Earn points and badges and become a "TrailsWA Expert" by completing trails and leaving reviews.
Earn 20 points towards
your TrailsWA level
Earn the Overnight Hike , and Bibbulmun Track badges when you complete this trail.

5 trail goers have rated Bibbulmun Track, Kalamunda to Albany as 5 out of 5!
We love to hear from people who've been on our Western Australian trails, so it would be most appreciated it if you wanted to leave a review.
Add your review of Bibbulmun Track, Kalamunda to Albany
Ian Kininmonth rated Bibbulmun Track, Kalamunda to Albany a 5 out of 5
The Bibbulmun is named after a tribe of the Noongar people who lived in the region through which the track passes. The track, appropriately marked with the symbol of the Waugal or rainbow serpent, winds its way through an amazing variety of landscapes and one of the most biodiverse regions on our planet. We walked the full length of the track between September and November 2020, the peak of the wildflower season and spotted around 60 unique species of orchid as well as a variety of other plants, animals and insects. We also met many wonderful people. While we have done various sections of the track over time, doing the full end to end gave us the opportunity to become almost fully immersed in the track and all that it has to offer. It is definitely on the list to do again.
Jude Comfort rated Bibbulmun Track, Kalamunda to Albany a 5 out of 5
Finally after years of tinkering around the edges of shortish sections on the Bibbulman Track I have now completed a very long section of the Bib Track. I completed nearly 800km from Dwellingup to Albany two weeks ago (I have basically done the track Kalamunda to Dwellingup). What an absolute treasure this track is and speaking to the international walkers I met on my 6 week adventure, it is up there with best tracks overseas. I found the wagyls easy to follow, and the days of hiking of various lengths provided heaps of variety and always rewarded with a hut which had been very thoughtfully sited and was always well maintained. I only had to sleep out one night due to a controlled burn diversion at Dookanelly Hut. The wildflowers were spectacular as were the ever changing ecologies and the weather was kind. Great sense of achievement arriving at the Southern Ocean at Mandalay Beach and that stunning coast line. Met some really interesting folk along the way. The track was pretty busy at the Dwellingup end (full hut at Possum Springs) but thinned out in the second half. A few comments - not much information at all about Aboriginal connection and culture through this area; some people were trying to burn rubbish which when this is plastic and tins is not on (obviously 'pack it in pack it out' and 'leave no trace' does not have the same meaning for everyone); the huts are a real bonus and social hub for the walk and I loved that they are simple really just offering shelter for the night; such a diversity of people on the track and great to see some young folks out too; some of the track towns seem more connected than others to the track but generally able to get what you need. I also loved that many people you met along the way who were not walking the track, still knew of the track and were quick to congratulate me on walking it. They are great ambassadors for the track as well. Thanks to all who make the track possible and keep the maintenance going and to the Bib Track Foundation for the background information and assistance to prospective walkers.
Matt Kibblewhite rated Bibbulmun Track, Kalamunda to Albany a 5 out of 5
I have walked the track the 69km from Brookton Highway to Kalamunda and camped overnight at a few of the campsites and it was amazing. It's a steeper and at times challenging section in places as you head through the Darling Range but the views and the nature you view along the way is worth every step. If you plan carefully for your hike and allow yourself time, then this is defiantly a must do. In time I would love to tackle other parts of the track and one day I may even become and end to ender. The Bibbulmum Track is something we here in WA should be very proud of.
Alexandre Bouillot rated Bibbulmun Track, Kalamunda to Albany a 5 out of 5
Cette marche de 1000km \u00e0 \u00e9t\u00e9 pour moi une grande exp\u00e9rience. Les paysages sont \u00e0 couper le souffle et la piste vous fait d\u00e9couvrir le bush du Western Australia dans toute sa diversit\u00e9. Vous verez \u00e9norm\u00e9ment d'animaux facilement et passerez par beaucoup de hauts lieux touristiques, vous aurez \u00e9galement l'occasion de d\u00e9couvrir des petites villes typiques de la r\u00e9gion. Malgr\u00e9 tout on peut se sentir seul ou bien assez facilement marcher en groupe. Il y a du monde sur la piste en Octobre/Novembre mais cela reste tr\u00e8s raisonnable (rien \u00e0 voir avec l'Europe). A cette saison l'eau n'est pas du tout un probl\u00e8me. Pour plus d'information vous pouvez visiter mon Blog http://end2end.me ou encore le site de la Bibbulmun Track Foundation qui est tr\u00e8s bien fait.
Jim K rated Bibbulmun Track, Kalamunda to Albany a 5 out of 5
Coming from the UK, the apparent lack of footpaths was a little discombobulating. Though pedestrians are catered for (unlike the US), the ability to walk without the incessant noise of tyres and internal combustion engines was something I missed, like occaisional cans of Irn Bru.
What a pleasure, then, to find such a path on my doorstep in Kalamunda. I am no "end-to-ender", but we have dipped in and out of this one on our travels around the South West as a family. The markings are simple and effective and the campsites an ideal waypoint for tired legs. I can particularly recommend an day break expedition with kangaroos and a cooked breakfast when you reach the campsite. Well done WA!
Supported by great organisations
Trails are free and bring so many benefits to our community by providing opportunities to have fun, get fit, socialise, explore and challenge yourself. But they also have to be managed and maintained which only is made possible through terrific sponsors, donations and/or volunteering.

Classic Bibb Hut
There are 49 campsites long the track provide basic facilities
Coastal Views
Parts of the track follow the southern coastline of Western Australia with stunning views over the Southern Ocean
Wide Open Spaces
Parts of the trail pass through wide open spaces where you can see for miles
Through the Forest
The track passes through a variety of forested areas including jarrah and karri
View 4 Photos of Bibbulmun Track, Kalamunda to Albany
Upload your photo of Bibbulmun Track, Kalamunda to Albany
Report a Problem
You are reporting a problem for Bibbulmun Track, Kalamunda to Albany. Please be as detailed as possible to help us appropriately identify and address the issue.