About Wadjemup Bidi - Rottnest Island
The Whadjuk Noongar are the Traditional Owners of Rottnest Island (Wadjemup). As such, the name of this 45 kilometre trail network takes in both cultural and environmental significant landmarks reflects this heritage. The word "Bidi" in Noongar means "trail" or "track".
The Island
Rottnest Island is Western Australia's very own Island getaway, featuring a casual atmosphere, picturesque scenery and some of the world's finest beaches and bays, is located just 19 kilometres off the coast of Fremantle.
It's a special place for Western Australians and a popular destination for interstate and international visitors. Mediterranean-style climate and indigenous flora and fauna of this Island provide the backdrop to a special holiday experience.
Fauna
As an A Class Nature Reserve, Rottnest Island preserves and protects its natural beauty; spectacular flora, abundant marine life and wildlife and many unique species.
Rottnest Island's famous marsupial, the Quokka, can be seen around the Island particularly in the mid to late afternoon. During the autumn and winter months (March to August) young joeys may be seen peaking from their mothers' pouch and come spring (September to November), bravely hopping around exploring their new world.
See the osprey nests known to be over 70 years old at West End - Fish Hook Bay. Osprey's mate for life and return to their nests, adding more to the stacks every year. This majestic raptor has a 1.5 meter wing span. Its scientific name Pandion cristatus, is derived from Pandion, a mythical king of Athens.
Around 35,000 migrating Humpback and Southern Right whales linger in the calm waters around the Island. In April each year they head north to feeding grounds while on their return trip during September to December, the whales and their newborn calf's spend much of their time playing in the protected Rottnest waters gaining strength and learning all that young whale needs to know before returning to the colder southern waters. You can often see them from the Island itself, with the West End platform providing a prime viewing location.
The New Cathedral Rocks viewing platform allows you to get closer to the resident New Zealand Fur Seals colony without disturbing them whilst they flip and play together in the bay and enjoy basking on the rocks.
Salt lakes occupy ten per cent of the area of Rottnest Island. Many of them - including Lake Baghdad, Lake Vincent, Herschel Lake, Garden Lake, Government House Lake and Serpentine Lake - are permanent and have surrounding beaches. Other lakes such as Pink Lake, Lake Sirius, Lake Negri and the twin Pearse Lakes may dry out in summer. The Gabbi Karniny Bidi explores the unique salt lakes.
The White-striped Freetail bat flying over the Settlement at night – recently discovered as the second mammal species living on the Island.  Rottnest also has 3 species of frogs - the moaning frog (Burrowing frog), the motorbike frog (Western Green Tree frog) and squelching frog (Sandplain froglet). The Tree frog is quite restricted in its distribution, whilst the moaning frog and the froglet are usually associated with low-lying areas, freshwater swamps and seeps.
Protected by several marine sanctuary zones, Rottnest Island is home to 135 species of tropical fish as compared to the eleven species recorded off the metropolitan coastline. The tropical current often brings visitors to our waters such as the Green turtle. Watch for stingrays which often cruise the shallows of Thomson Bay.
You may also spot a pod of Bottlenose Dolphins feeding & surfing in Salmon Bay.
Flora
Prior to separation from the mainland, Rottnest Island would have had the same range of plants found today on the adjacent mainland, where around 1,500 native species flourish. It is believed that Rottnest Island was separated from the mainland approximately 7,000 years ago.
The sea-level rose, cutting the island off from the land mass. Exposure to salt and wind eliminated hundreds of species at that time so that today there are only about 140 indigenous species left on the Island. However, fossil remains show that tuart, marri, jarrah, banksia and she-oaks once grew there. The native plants that remain are well adapted to the predominantly nutrient poor soils, along with the salty and often windy conditions.
The vegetation of Rottnest Island is dominated by the prickle lily (Acanthocarpus preissii) and feather speargrass (Austrostipa flavescens) heath community, which occurs in areas previously dominated by woodland. Over 60% of the Island is covered by this heath assemblage, with the summer-scented wattle (Acacia rostellifera) forming a closed scrub in association with the heath.
The woodland community on Rottnest comprises Rottnest Island Pine (Callitris preissii) and Rottnest Island Tea Tree (Melaleuca lanceolata). Prior to European settlement in 1831, over half of Rottnest Island was covered in large areas of woodland. European settlers quickly changed the landscape of Rottnest. Land was cleared and tracks made. Firewood was gathered, especially for the salt works, and the Island was repeatedly burned. Aboriginal prisoners often used fires as an aid in hunting quokkas. At present, approximately 4% of the Island is covered by scattered relic stands of woodland.
Along the coastline plants such as beach spinifex (Spinifex longifolius), the aromatic coastal rosemary (Westringia dampieri), coastal sword-sedge (Lepidosperma gladiatum), seaberry saltbush (Rhagodia baccata), and thick-leaved fan-flower (Scaevola crassifolia) can be found. On the salt lake shores an array of salt-water tolerant plants such as samphires, grey salt bush, and sedges can be found.
A well-known flower native to Rottnest Island, the Rottnest Island daisy (Trachymene coerulea subsp. coerulea), is actually a member of the carrot family, although it resembles a true daisy in its form. Fields of these bright purple flowers appear in spring and areas of Rottnest are transformed into carpets of purple. Although the daisy can be seen in most areas of the island, the dune areas behind Henrietta Rocks and Parker Point are especially attractive.
In addition to Rottnest Island's native woodland species there are many introduced varieties such as Norfolk Island pines, Moreton Bay figs, Aleppo pines, olive trees, palm trees and tuarts. Other introduced plants include two varieties of onion weeds that are primary colonisers, and hare's tail grass (Lagurus ovatus).
The Rottnest Island Authority has been undertaking woodland restoration on Rottnest since 1963. Woodland restoration activities include seed collection, propagation, planting and weed control. In earlier years, tree species not naturally occurring on Rottnest such as tuart (Eucalyptus gomphocephala) and coastal moort (Eucalyptus utilis) were planted in large stands. Apart from these stands not being representative of the natural habitat, many of these non-native species are not suited to the Island's harsh conditions. Species such as tuart have high water demands and as a result put additional pressures on Rottnest's limited groundwater supply.
Since 1995, only the two tree species native to the Island, Rottnest Island Pine and Rottnest Island Tea Tree, have been planted. Woodland restoration on Rottnest to date has predominantly involved planting within fenced restoration areas in order to exclude quokkas from grazing on the seedlings.
Stay Awhile
A range of accommodation is managed by the Department of Biodiversity, Conservation and Attractions. Stay in stunning ocean view accommodation and charming heritage cottages or enjoy life's simple pleasures with a relaxing stay in bungalows, cabins or the campsite.
Hotel Rottnest has 18 fully serviced, beautifully appointed modern rooms all with air-conditioning. There are four Premium Bayside Rooms have spectacular views over Thompson Bay and the external courtyard provides all guests with a relaxing oasis.
With six types of accommodation to choose from and space for as many as 246 guests, Karma Rottnest is versatile enough to fulfil a wide variety of guest needs. Karma Rottnest offers a choice of quality hotel style apartments, suites with private facilities and lower priced rooms. Also enjoy the Governor's Sports Bar, Riva Restaurant and relaxing poolside bar.
Getting there
Ferry
Transfers across to Rottnest Island can be booked through one of the two ferry operators. Rottnest Island ferry companies provide transfers to the island from Perth City, North Fremantle (Rous Head), Fremantle (Victoria Quay) and Hillarys Boat Harbour in Perth's north. Rottnest ferries take approximately 25 minutes from Fremantle, 45 minutes from Hillarys Boat Harbour, or 90 minutes from Perth's Barrack Street Jetty.
By Boat
Taking your own boat is the perfect opportunity to experience the island's many coastal activities at your own pace. Western Australia has the highest per capita boat ownership in Australia and Rottnest Island is a destination favourite. Regulations and guidelines are in place to preserve Rottnest's unique environment and to ensure the safety of those enjoying the Island and its waters.
By Air
Travel to Rottnest Island by air and you'll enjoy incredible visibility and stunning views of the southern beaches and the breathtaking island itself. Please note that the airport landing fee may or may not be included in your flight fares (please check with your chosen operator and see information on landing fees below).
The Trails
The 5 sections of the 45km Wadjemup Bidi are:
Ngank Yira Bidi - Uncover Bickley Battery (9.4km/ one way approx. 3-4hrs): Completed in December 2013, this section traverses the south east corner of the Island - Thomson Bay to Oliver Hill. Approximately 9.4km in distance, you'll explore the remnants of Coastal Defense systems installed during WWII.
Gabbi Karniny Bidi - Discover the Salt Lakes (9.7km/ loop approx. 3-4hrs): Starting from Thomson Bay Settlement and heading west out of Digby Drive, this section meanders through the lake systems including a magical stroll along the Lakes Boardwalk which provides the façade of "walking on water".
Wardan Nara Bidi - Relax on Salmon Bay (10km/ one way approx. 3-4hrs): Walk along the coast of Salmon Bay and then cross through to the middle of the Island to explore the WWII guns and tunnels. Take in panoramic views from Wadjemup Lighthouse and then continue west to the world class surf break at Strickland Bay. Learn a bit more about Rottnest Island's surfing history by watching a short documentary accessed by scanning the QR code located on the informative sign or inside the surfing hut at this location. The Wardan Nara Bidi was proudly supported by the Rottnest Foundation working in partnership with BHP Billion.
Karlinyah Bidi - Experience the Northern Beaches (5.9km/ one way approx. 2-3hrs): Beautiful long sandy beaches and calm swimming lagoons within the reef; there will be a favourite spot for everyone. Enjoy the excitement of rugged sections of trail, but be aware of seasonal access in high seas.The Karlinyah Bidi was proudly supported by the Rottnest Foundation working in partnership with BHP Billion.
Ngank Wen Bidi - Explore West End (7.6km/ one way approx. 3-4hrs): A marine wildlife haven! New Zealand fur seals can be seen from the viewing platform at Cathedral Rocks. The West End boardwalk is a great place to spot dolphins, and the seasonal migration of humpback whales!
Rottnest Island Visitor Centre
(08) 9372 9730
Can't find something you're looking for?
Our Explore Map tool provides a lot of detail and filters to help explorers find the best and most suitable trails. Head on over to our Explore Map for greater search capacity.
Supported by great organisations
Trails are free and bring so many benefits to our community by providing opportunities to have fun, get fit, socialise, explore and challenge yourself. But they also have to be managed and maintained which only is made possible through terrific sponsors, donations and/or volunteering.

Warden Nara Bidi
Hikers on the Warden Nara Bidi Trail
Karlinyah Bidi
Karlinyah Bidi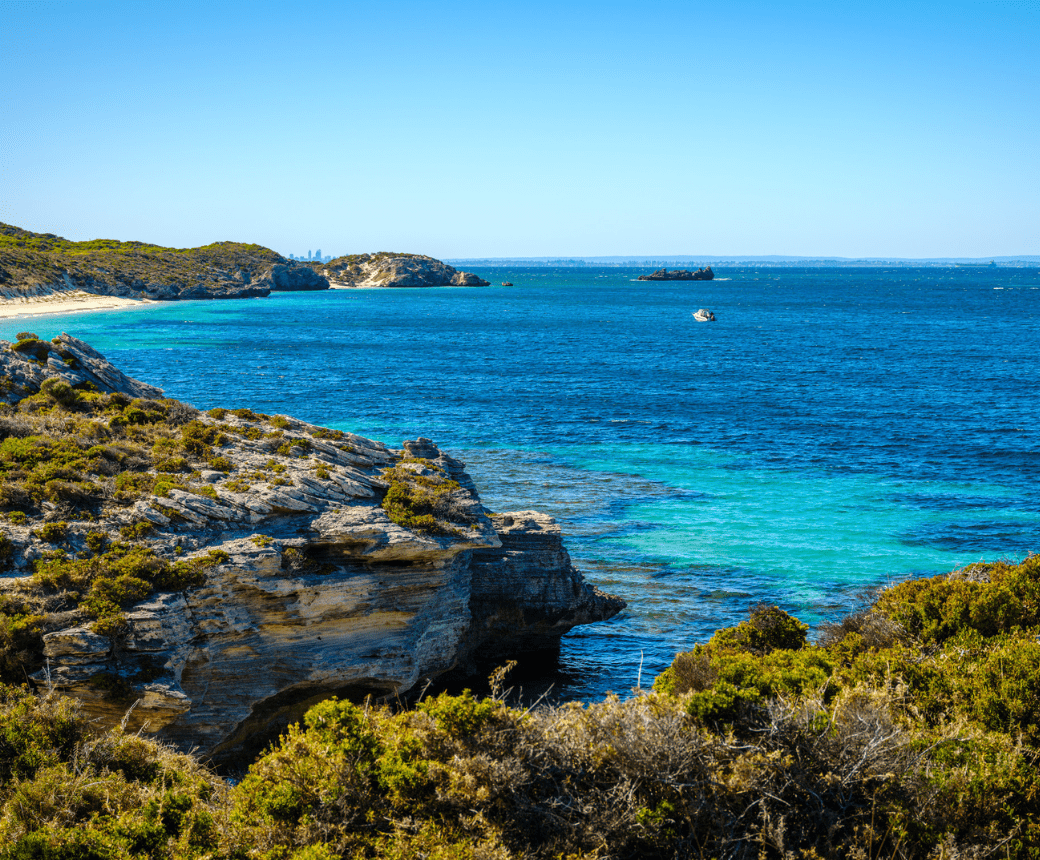 Drone view of Oliver Hill Guns
Drone view of Little Salmon Bay
Family walking along boardwalk
Gabbi Karniny
Gabbi Karniny
Stairs to Parker Point Beach
Drone view of the seal viewing platform
Trail sign near Catherine Bay
Drone view of Oliver Hill
Cathedral Rocks Rottnest
Cathedral Rocks Rottnest
Drone view of Little Armstrong Bay
View 41 Photos of Wadjemup Bidi - Rottnest Island