About Pinjar Motorcycle Area
Just 45 minutes north of Perth, the purpose built trails in the Pinjar motorcycle areas are proving to be very popular with families and young riders as well as more advanced riders.
Some trails are surfaced with clay or limestone, others are natural sand.  East of Orchid Rd is designated a 'Family Zone'; West of Orchid Rd is for intermediate / advanced riders. Intermediate and advanced trails are graded regularly but have exposed roots and lots of whoops.  The entire area is rated as very good - and improving progressively.
Pinjar is open to motorcycles and quads of all engine capacities. You don't need a road-registered bike, or a drivers' licence to ride at Pinjar, but if your bike is not road registered you must have Off Road Vehicle registration (available from DPI) and you must wear a helmet. 
Entry is free and the facility is open 7 days a week. 
All visitors to the Pinjar Motorcycle Area ride at their own risk
---
Getting There
The Pinjar Motorcycle Area is near Barbagallo Raceway in Nowergup.  Entrance from Orchid Rd off Wesco Rd, Pinjar. 45km (45 mins) north of Perth. Sealed road to Wesco Road. Unsealed road of about 400m to car park.
There are two car parks.  One with good viewing of Pee Wee trail and access to Family Trail, the other provides access to the North Loop and Short n Curly trails.
---
Facilities
Public toilets.
The Go-Kart track opposite Wattle Ave serves food and drink.
Fees
Fees are applicable for Pinjar ORV Area. There are two options for payment:
Day Pass - $8.50 available to purchase from pillar using paypass
Annual pass – $50.00, QR code to scan on sign next to pillar or purchase online here. 
Both passes are for one vehicle entry with up to 12 legally seated people. All funds from the pillar will go directly back into the maintenance of the Pinjar ORVA.


Can't find something you're looking for?
Our Explore Map tool provides a lot of detail and filters to help explorers find the best and most suitable trails. Head on over to our Explore Map for greater search capacity.
Supported by great organisations
Trails are free and bring so many benefits to our community by providing opportunities to have fun, get fit, socialise, explore and challenge yourself. But they also have to be managed and maintained which only is made possible through terrific sponsors, donations and/or volunteering.

Pinjar R T R A
Pinjar R T R A
Pinjar Absolute Beginners Track
The loop has is designed for parents to be able to run alongside.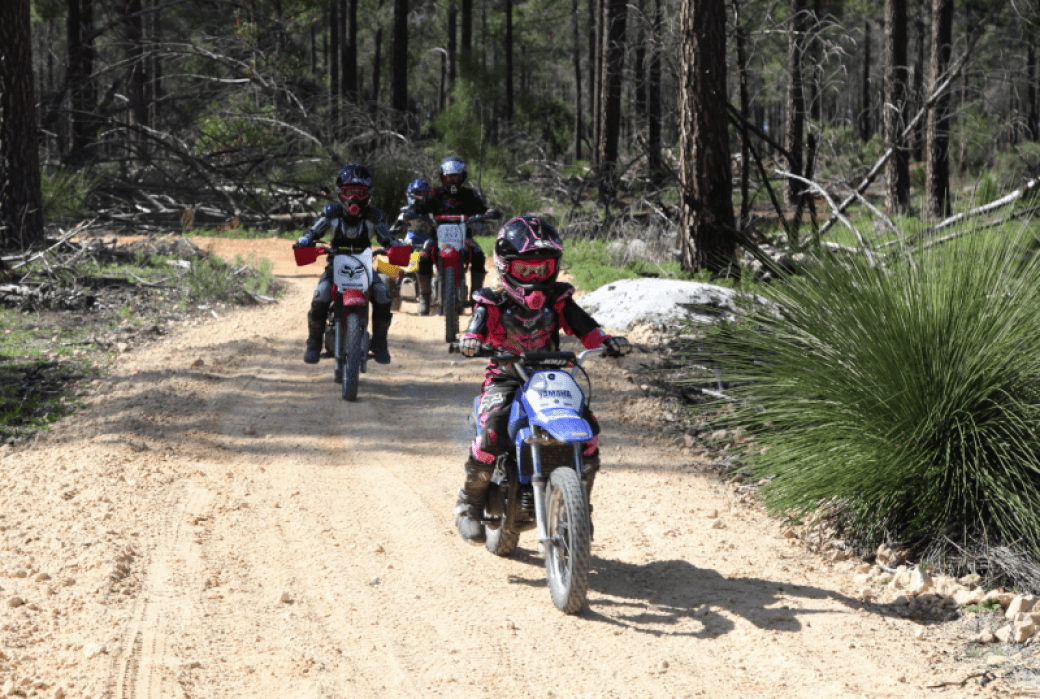 Pinjar-north-loop
Quad bike on the Pinjar North Loop
Pinjar Absolute Beginners Track
Get the young ones up and running on this easy loop.
Short and Curly Jump
Opening Day
South Loop Map
South Loop in the Pinjar Motorcycle Area
View 9 Photos of Pinjar Motorcycle Area