About Stirling Range National Park
Stirling Range National Park is home to one of Western Australia's highest peaks, Bluff Knoll. Take the challenge and climb Bluff Knoll, which rises more than a kilometre into the air, or go rock climbing at Ellen Peak. You'll be rewarded with panoramic views of the park and surrounding plains. Bluff Knoll is one of the few places in Western Australia where it snows - but only very occasionally!
Stay in the area a while and hike some of the other trails in this spectacular area - you won't be disappointed.

Stirling Range National Park is also known for its staggering range of wildflowers - more than 1,000 different species, some of which are found no where else.
---
Sirling Range Ridge Walk
If you are considering undertaking the Stirling Range Ridge Walk, also known as the Eastern Peaks Ridge Route, or other cross country walks, you are advised to contact the Stirling Range National Park rangers or the Albany District Office to obtain more detailed information. (Stirling Range National Park office – 9827 9230; Albany District office – 9842 4500)
The Ridge Walk is approximately 26km one way from the north east corner of the park boundary via Ellen Peak to the Bluff Knoll Car park. This is a difficult and challenging, unmarked, cross country bushwalk with no designated trail through a Wilderness Zone.
It takes two to three days to complete the hike through rugged terrain. This bushwalk is not a managed route and natural hazards exist. Walkers are responsible for their personal safety and will need to ensure they are well planned, prepared and exercise appropriate caution.
To undertake the Ridge Walk bushwalkers require previous experience in the outdoors and a high level of specialised skills and equipment including navigation skills, a map and navigation equipment to complete the walk. Bushwalkers need to be self-reliant, particularly in regard to emergency first aid and be prepared for unforseen weather conditions which may be extreme. Storms and severe weather may affect navigation and safety. Walkers undertaking this route are strongly advised to carry their own Personal Locator Beacon and mobile communication devices in case of emergencies.
---
Weather wise
The peaks of the Stirling Range are subject to rapid, unpredictable changes in the weather. Hikers should be prepared for sudden cold changes that cause the temperature to drop and rain or hail to set in.
All visitors are strongly advised not to enter the bush or use footpaths on days of extreme fire danger. If you are planning to hike off marked trails, abseil or rock climb, please register your details at the shelter in the picnic area across the road from Bluff Knoll Road entry station. If you plan to hike on an established walk, no registration is required.
---
Getting There
The Park is 405km (4.5 hours) south of Perth along the Albany Highway until turning off onto the Frankland-Cranbrook Road.  The Park is just 85km (1 hour) north east of Albany along Chester Pass Road then Toolbrunup Road.  
---
Accommodation
Moingup Spring is a lovely bush camp set amongst jarrah and marri trees and centrally located in the park. Camping fees apply. Stirling Range Retreat and Mt Trio Bush Camping and Caravan Park, both on the park's northern boundary, offer a range of accommodation and services.
---
Facilities
Drinking water: No
Toilets
BBQ's
Lookouts
Can't find something you're looking for?
Our Explore Map tool provides a lot of detail and filters to help explorers find the best and most suitable trails. Head on over to our Explore Map for greater search capacity.
Supported by great organisations
Trails are free and bring so many benefits to our community by providing opportunities to have fun, get fit, socialise, explore and challenge yourself. But they also have to be managed and maintained which only is made possible through terrific sponsors, donations and/or volunteering.

Stirling Range Twa
Stirling Range Twa
Views from the track
Views from the track
View to ranges
View to ranges
Hikers near start
Hikers near start
Trackside vegetation
Trackside vegetation
Grasstrees in the mist
grasstrees in the mist
Striling Range paper heath
Stirling Range paper heath
Rosenberg's monitor
Varanus rosenbergi
Grass trees along trail
Grass trees along trail
Grasstrees along trail
Grasstrees along trail
Beautiful spring flowers on Mt Hassell
Beautiful spring flowers on Mt Hassell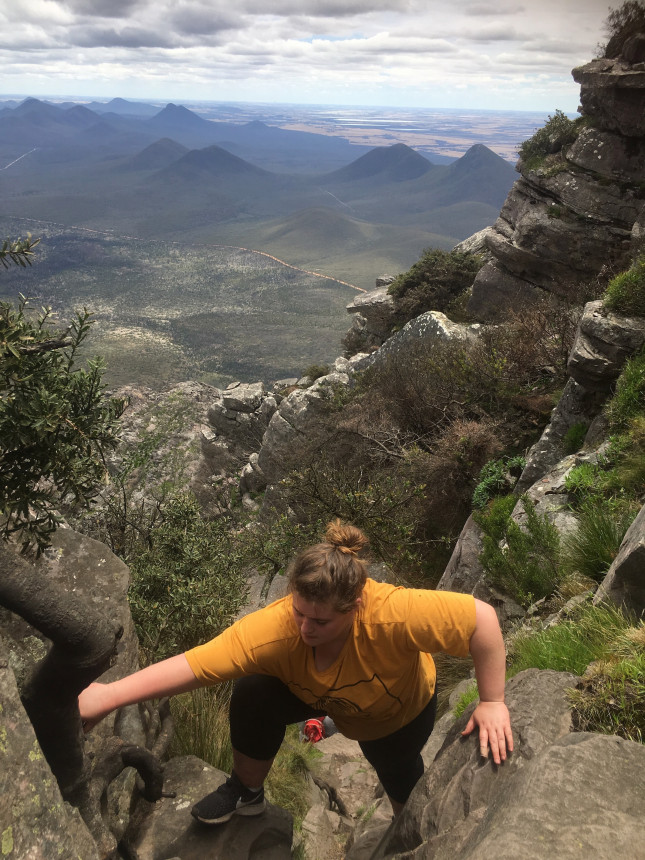 Lari coming up to the summit
There are some final narrow steep scrambles to the summit
Talyuberlup - Looking down at the hard bit
Looking down, the trail is on the left
View back to car park
View back to car park
Veronica's wattle along early part of trail
Veronica's wattle along early part of trail
Bluff Knoll Trail
The beginning of the trail to the summit of Bluff Knoll
Southern Cross flower
Southern Cross flower
Mt Trio from below
Mt Trio from below
Mountain banksia
Mountain banksia
Looking back to ranges
Looking back to ranges
View from lookout
View from lookout
Bluff along the route
Bluff along the route
Stirling Range paper heath
Stirling Range paper heath
Toolbrunup Peak
Toolbrunup Peak
Darwinia lejostlya
Mountain Bells
Grasstrees through mist
Grasstrees through mist
Heath-leaved honeysuckle
Heath-leaved honeysuckle
Spring wildflowers
Spring wildflowers
View from Toolbrunup
View from Toolbrunup
Talyuberlup Summit
Talyuberlup Summit
Mt Toolbrunup through the trees
Mt Toolbrunup through the trees
Vista of Stirling Ranges
Vista of Stirling Ranges
Stepped trail
Stepped trail
View to summit
View to summit
Talyuberlup mallee
Talyuberlup mallee
Mountain kunzea
Mountain kunzea
Grasstree beside trail
Grasstree beside trail
Sign at start of trail
Sign at start of trail
Views though the mist
Views through the mist
Talyuberlup peak in distance
Talyuberlup peak in distance
Hiker at cairn on top
Hiker at cairn on top
Ascending Mt Hassell
Ascending Mt Hassell
Rocky pinnacles of Talyuberlup Peak
Rocky pinnacles of Talyuberlup Peak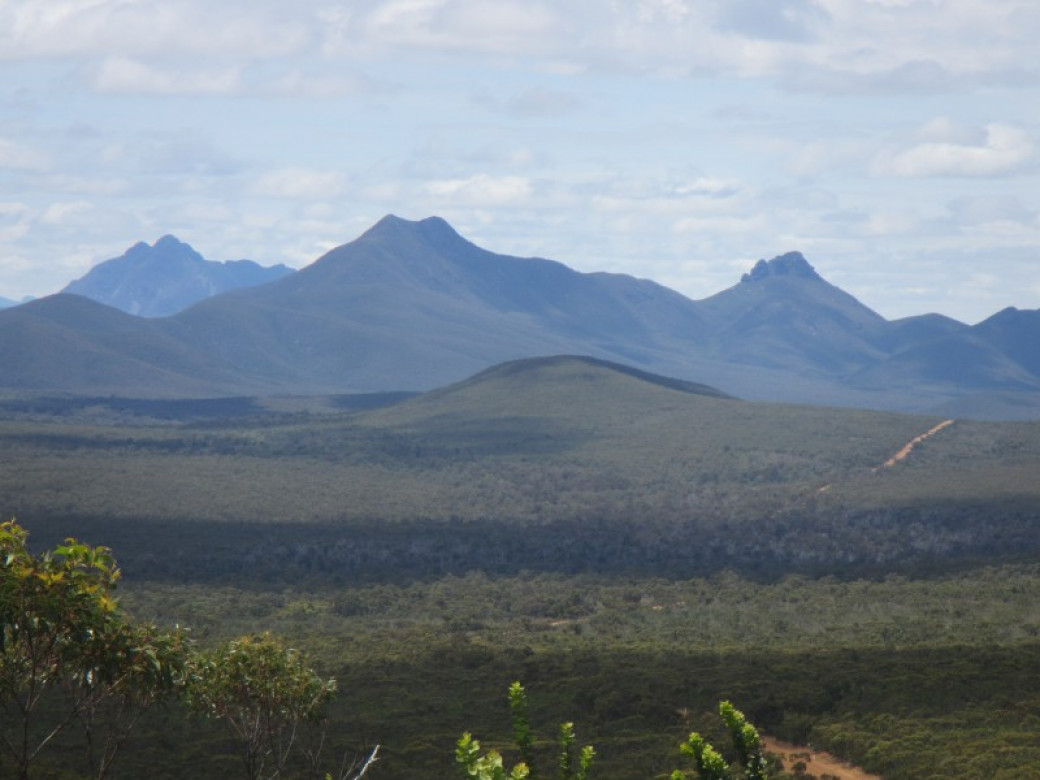 Talyuberlup peak along the ranges
Talyuberlup peak along the ranges
Flat rock before rock scramble
Flat rock before rock scramble
Talyuberlup seen from Mt Magog Trail
Talyuberlup seen from Mt Magog Trail
View 58 Photos of Stirling Range National Park