Gabbi Karniny Bidi, Rottnest Island
Details for trail on a map
Rottnest Island Visitors Centre, Rottnest Island, 18km from Western Australia Mainland.
Rottnest Island Visitors Centre, Rottnest Island, 18km from Western Australia Mainland.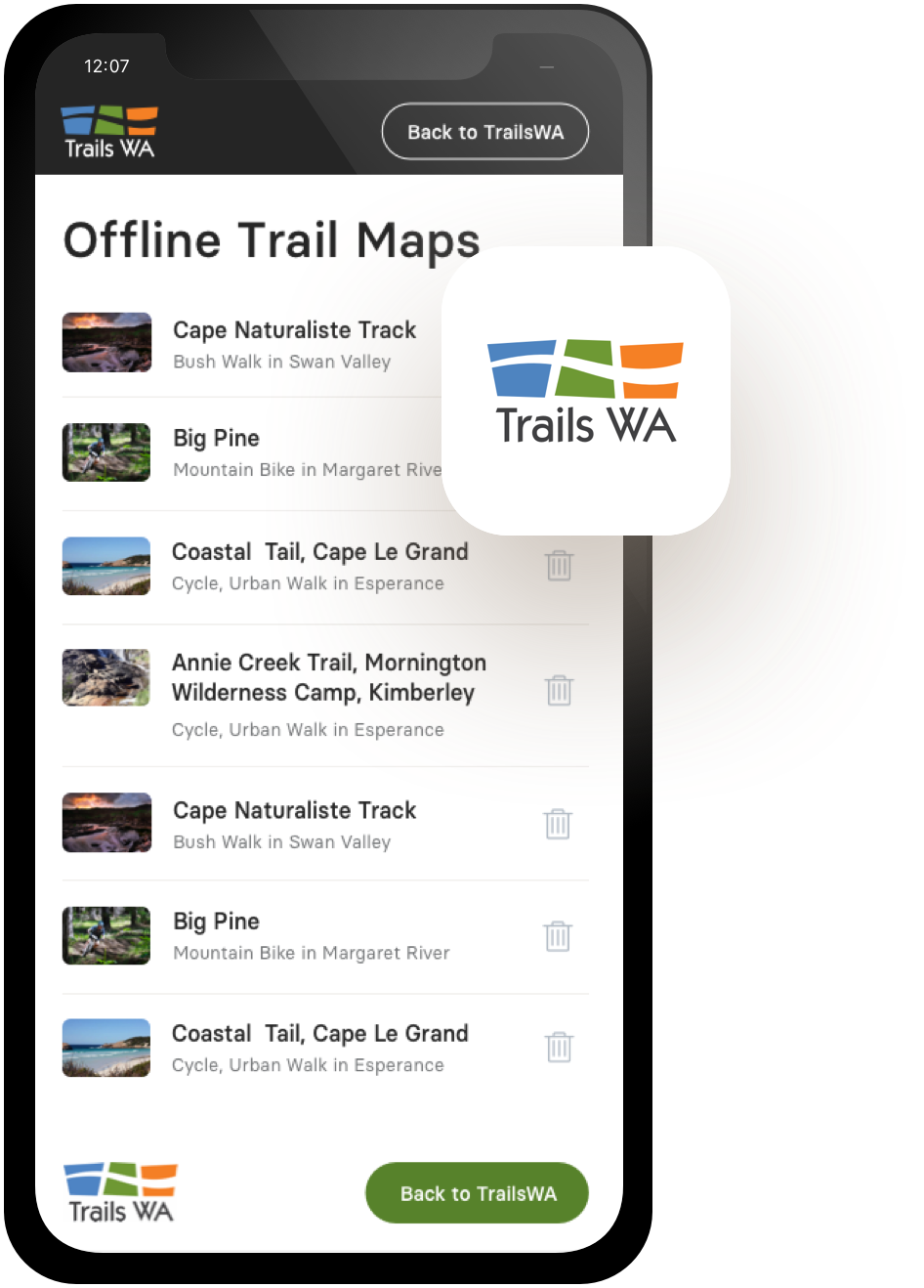 Offline Maps
TrailsWA Now supports Offline Maps. Follow the instructions below to save trail maps to your phone.
Visit trailswa.com.au on your mobile Our Offline Maps will require you to be connected to trailswa.com.au using the device you intend to take on your trip.

Add to Home Screen Save the trailswa.com.au webpage to your home screen.

Find your trail, and Save Offline Via the bookmark saved to your devices home screen, explore our trails and find the one you want - select "Save this map to use offline". You will need to be connected/online at this point.
Trails WA supports the seven principles recommended by Leave No Trace Australia for minimising your impacts when using the trails.
Learn more
About Gabbi Karniny Bidi, Rottnest Island
Gabbi Karniny Bidi is part of the greater Rottnest Island 'Wadjemup Bidi'. The trail is a major new recreation and conservation initiative that will be implemented in sections over a six year timeframe, which started in July 2013. It involves the construction of a ~45 kilometre network of trails that will provide an exploratory narrative of the Island's environment, connecting you with the beautiful natural features, abundance of wildlife and rich cultural history that the island has to offer. There will be five primary walks linking facets of the islands diversity. The alignment of the trail was designed to allow walkers to hop on and off of the Islands bus services between sections.
The second section of the Wadjemup Bidi, Gabbi Karniny Bidi, starts from The Settlement and heads west out Digby Drive. Elevated panoramic views can be experienced within 500m of the settlement from Vlamingh look out; which is accessed next to the European cemetery. The walk then continues past Lake Herschel and meanders through the lake systems. You will come across a "walk on water" boardwalk which allows you to pass along the southern edge of Lake Vincent. Following Pink Lake Road the walk heads for Little Parakeet Bay and continues along the coastline all the way up to Bathurst Lighthouse. By this time you will be ready to stroll along Thomson Bay for a well-deserved refreshment back in the Settlement.
Gabbi Karniny Bidi can be experienced at different times of the day within different seasons of the year, each offering completely different experiences. On a crisp winter morning the heavy dew will be reflecting the rising sun. Overcast days with intimidating clouds will be pierced by the stunning view of the fresh white of Wadjemup Lighthouse in the distance. On balmy summer evenings expect to be treated to a spectrum of burning sunset colours across the lake and a view of the dipping sun from one of the newly installed bench seats which have been purposefully placed to encapsulate the best views!
Rottnest Island Authority
(08) 9432 9300
Rottnest Island Visitor Centre
(08) 9372 9730
Other Links
Experience Perth

Comprehensive information on the Perth region including destinations, things to see and do, accommodation and tours.

Be trail ready for Gabbi Karniny Bidi, Rottnest Island
Here is everything you need to know before visiting this trail.
Time / Duration
3 - 4 hours
Length
Gabbi Karniny Bidi is a 9.7km loop. You can also continue on up to Wadjemup Lighthouse by crossing Pink Lake Road and following the 1.5km trail up though the centre of the Island.
What To Pack
Group B (Bushwalks and/or longer trails) required.
What To Pack
Group B (Bushwalks and/or longer trails)
Minimum 2 litres of water per person per day
Sturdy shoes
Sun hat or bike helmet (compulsory in WA)
Sunglasses, sunscreen (30+) and insect repellant
Binoculars and camera (optional)
Map or guide book where suggested
Snacks and/or lunch depending on length of trail
Clothes to suit the activity and potential weather conditions including a water/windproof jacket
First Aid kit
Additional Useful Items
+water
+snorkelling equipment
+food
Trail Start
Rottnest Island Visitors Centre, Rottnest Island, 18km from Western Australia Mainland.
Trail End
Rottnest Island Visitors Centre, Rottnest Island, 18km from Western Australia Mainland.
Bushwalking experience recommended. Tracks may be long, rough and very steep. Directional signage may be limited.
Difficulty Notes
Some uneven surfaces and seasonal access to beaches. Please use roads to by-pass these sections in adverse conditions.
Hazards & Warnings
Be aware there are poisonous snakes on Rottnest Island. The Dugite (Pseudonaja affinis) is a timid creature, but may bite if trod on or harrassed. Seek immediate medical assistance. Be aware of unstable rocky outcrops; always stick to the trail.
Facilities
Water available ONLY in Thomson Bay and Geordie Bay - ensure you fill up water bottles before leaving .
Toilets available in Thomson Bay, Geordie Bay and The Basin.
Shops are situated in Thomson Bay and Geordie Bay.
Bins and recycling points are situated at most bus stops, please take all litter with you.
BBQ Facilities
Bicycles Prohibited
Cafe
Camping
Lockers
Picnic Area
Public Toilet
Shaded Area
Sheltered Area
Shop
Toilet Facilities for Disabled
View Platform
Visitor Information Centre
Water Access Points
Best time of year
All year round
Fees
Visitor Fees are included in ferry travel. If you are travelling by private vessel you can pay online at www.rottnestisland.com or come in to the visitors centre at the Main Jetty on the Island.
Trail Access
Ferry - Departing Perth/Fremantle (www.rottnestexpress.com.au or www.sealinkrottnest.com.au) or Hillarys Boat Harbour (www.rottnestfastferries.com.au)
Prohibited Items
No pets. No bikes on trail (Bikes are encouraged on the Island, but not on the walking trails). No Camping or open fires.


Complete Gabbi Karniny Bidi, Rottnest Island to earn badges and points!
Earn points and badges and become a "TrailsWA Expert" by completing trails and leaving reviews.
Earn 2 points towards
your TrailsWA level

Be the first to review Gabbi Karniny Bidi, Rottnest Island
We love to hear from people who've been on our Western Australian trails, so it would be most appreciated it if you wanted to leave a review.
Add your review of Gabbi Karniny Bidi, Rottnest Island
Supported by great organisations
Trails are free and bring so many benefits to our community by providing opportunities to have fun, get fit, socialise, explore and challenge yourself. But they also have to be managed and maintained which only is made possible through terrific sponsors, donations and/or volunteering.

The Basin
The Basin is a popular swimming spot. There are also toilets, showers, changing facilities and shade.
Directional Signage
The trail is marked with grey directional markers that display an osprey and directional arrow showing the way
Pinky Beach lives up to its name. Check it out at sunrise and sunset for the most spectacular colours.
View 30 Photos of Gabbi Karniny Bidi, Rottnest Island
Upload your photo of Gabbi Karniny Bidi, Rottnest Island
Report a Problem
You are reporting a problem for Gabbi Karniny Bidi, Rottnest Island. Please be as detailed as possible to help us appropriately identify and address the issue.