West Mt Barren, Fitzgerald River NP
Details for trail on a map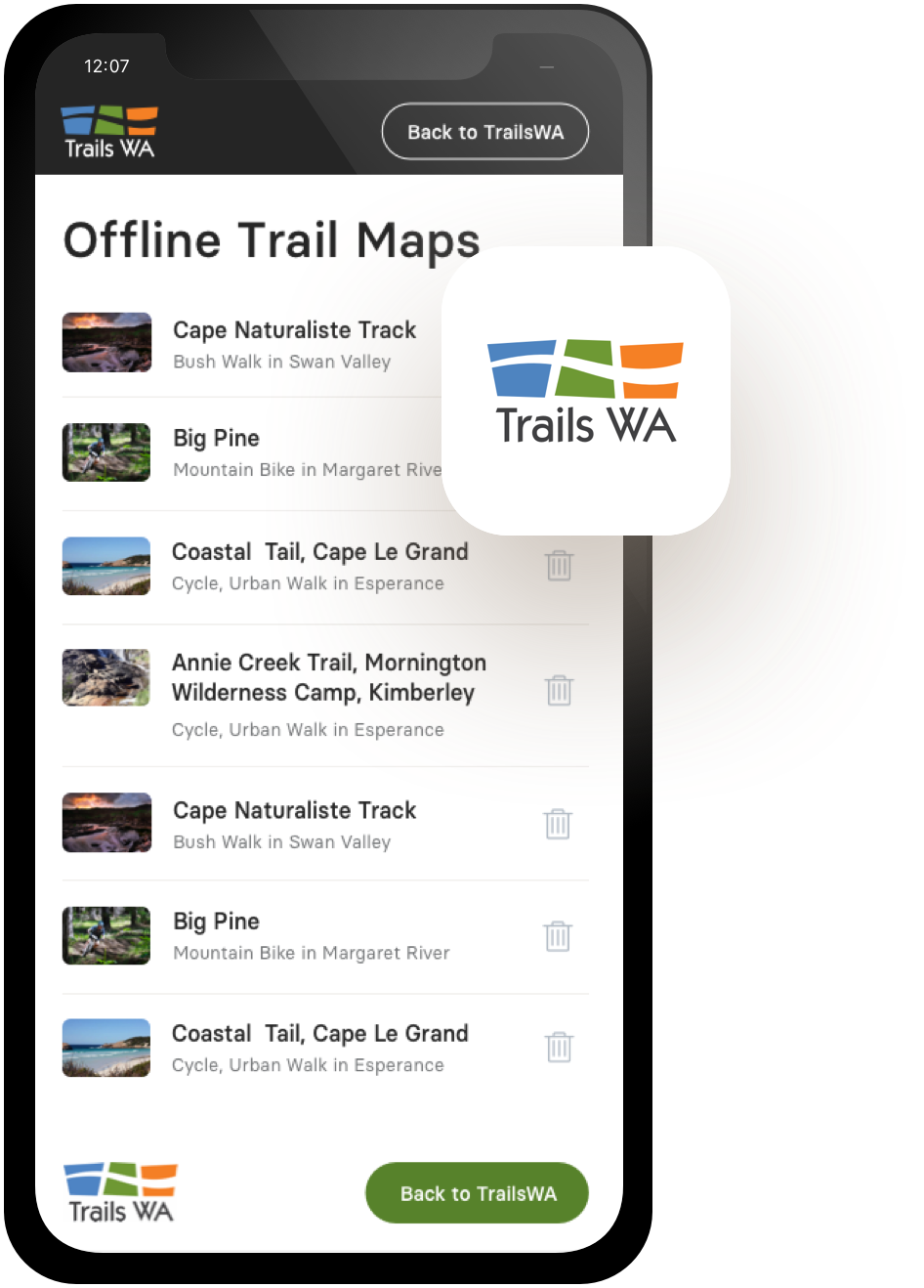 Offline Maps
TrailsWA Now supports Offline Maps. Follow the instructions below to save trail maps to your phone.
Visit trailswa.com.au on your mobile Our Offline Maps will require you to be connected to trailswa.com.au using the device you intend to take on your trip.

Add to Home Screen Save the trailswa.com.au webpage to your home screen.

Find your trail, and Save Offline Via the bookmark saved to your devices home screen, explore our trails and find the one you want - select "Save this map to use offline". You will need to be connected/online at this point.
Trails WA supports the seven principles recommended by Leave No Trace Australia for minimising your impacts when using the trails.
Learn more
About West Mt Barren, Fitzgerald River NP
Queelup (place of the rock sheoak) is the Aboriginal Noongar name for this pale grey quartzite peak at the western end of the iconic Barrens Range. A walk to the ridgeline midway up the northern slope or to the summit is rewarded with sweeping views of the park and coast. 
The view takes in Gordon Inlet, Trigelow Beach, Point Ann and the distant outline of the central Barrens - Mid Mount Barren and Thumb Peak. On a clear day the Stirling Range (over 100km to the west) may be visible.
Botanical treasures
The peak and rolling plains below are blanketed in a diversity of plants that will delight nature lovers. Sixty-two plant species are found only in Fitzgerald River National Park, with a further 48 species more or less confined to the park. These include the Barrens regelia (Regelia velutina) and Barrens clawflower (Calothamnus validus), which grow only on the quartzite ridges and peaks of the Barrens Range. On the approach to West Mount Barren you will also discover the exquisite Quaalup bell (Pimelia physodes) and the Royal hakea (Hakea victoria), the park's most famous and certainly most striking plant.
Be trail ready for West Mt Barren, Fitzgerald River NP
Here is everything you need to know before visiting this trail.
Time / Duration
1-2 hours
What To Pack
Group B (Bushwalks and/or longer trails) required.
What To Pack
Group B (Bushwalks and/or longer trails)
Minimum 2 litres of water per person per day
Sturdy shoes
Sun hat or bike helmet (compulsory in WA)
Sunglasses, sunscreen (30+) and insect repellant
Binoculars and camera (optional)
Map or guide book where suggested
Snacks and/or lunch depending on length of trail
Clothes to suit the activity and potential weather conditions including a water/windproof jacket
First Aid kit
Bushwalking experience recommended. Tracks may be long, rough and very steep. Directional signage may be limited.
Hazards & Warnings
Cliff risks are significant in this park
Facilities
Camping
Campgrounds are located on the western side of the park at St Mary Inlet near Point Ann and on the eastern side of the park at Hamersley Inlet and Four Mile Campground. Camp fees apply. Accommodation is also available at Quaalup, where the renovated and heritage listed Quaalup Homestead is located.
Trail Access
2WD access. Note that many roads in the park are unsealed and may be closed after heavy rain.
Prohibited Items
No pets in National Parks


Complete West Mt Barren, Fitzgerald River NP to earn badges and points!
Earn points and badges and become a "TrailsWA Expert" by completing trails and leaving reviews.
Earn 2 points towards
your TrailsWA level

Be the first to review West Mt Barren, Fitzgerald River NP
We love to hear from people who've been on our Western Australian trails, so it would be most appreciated it if you wanted to leave a review.
Add your review of West Mt Barren, Fitzgerald River NP
Supported by great organisations
Trails are free and bring so many benefits to our community by providing opportunities to have fun, get fit, socialise, explore and challenge yourself. But they also have to be managed and maintained which only is made possible through terrific sponsors, donations and/or volunteering.

West Mt Barren
Mt Bland in the distance and Central Barrens beyond
West Mt Barren
Vegetation along the trail
View 4 Photos of West Mt Barren, Fitzgerald River NP
Upload your photo of West Mt Barren, Fitzgerald River NP
Report a Problem
You are reporting a problem for West Mt Barren, Fitzgerald River NP. Please be as detailed as possible to help us appropriately identify and address the issue.