Details for trail on a map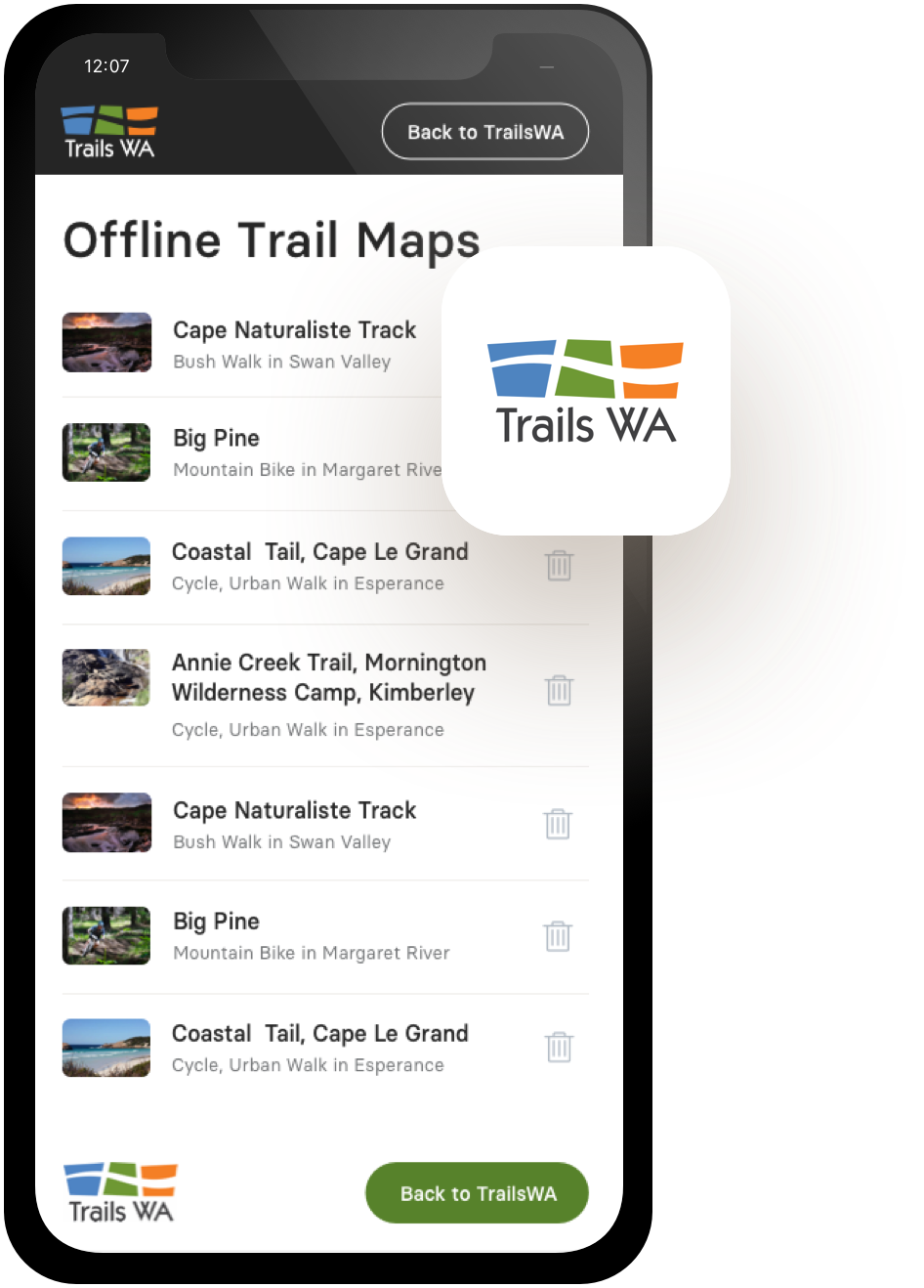 Offline Maps
TrailsWA Now supports Offline Maps. Follow the instructions below to save trail maps to your phone.
Visit trailswa.com.au on your mobile Our Offline Maps will require you to be connected to trailswa.com.au using the device you intend to take on your trip.

Add to Home Screen Save the trailswa.com.au webpage to your home screen.

Find your trail, and Save Offline Via the bookmark saved to your devices home screen, explore our trails and find the one you want - select "Save this map to use offline". You will need to be connected/online at this point.
Trails WA supports the seven principles recommended by Leave No Trace Australia for minimising your impacts when using the trails.
Learn more
About Cycletrek, Donnybrook
Cycletrek or Kambarang has been the host of several state round cross country mountain bike races. The owners are happy to for riders to use the track just contact them prior to arrival and sign some paperwork. There is also a bike shop for repairs and camping and eco chalets available onsite. This is also a good place to explore wildflowers if they are in season.
Other Links
Australia's South West

Comprehensive information on the South West region including destinations, things to see and do, accommodation and tours.
Be trail ready for Cycletrek, Donnybrook
Here is everything you need to know before visiting this trail.
Length
8km climbing and descending 230m per lap.
What To Pack
Group C (Mountain bike trails) required.
What To Pack
Group C (Mountain bike trails)
Group A and B items (see Trail Tips) plus
Gloves to prevent blisters
Spare inner tubes or puncture repair kit, pump, tool kit
Mountain bike shoes and clipless pedals are recommended
Mountain Bike
More Difficult
Likely to be a single trail with moderate gradients, variable surface and obstacles. Suitable for skilled mountain bikers with good standard of
fitness using mountain bikes.
Best time of year
March to November


Complete Cycletrek, Donnybrook to earn badges and points!
Earn points and badges and become a "TrailsWA Expert" by completing trails and leaving reviews.
Earn 2 points towards
your TrailsWA level

Be the first to review Cycletrek, Donnybrook
We love to hear from people who've been on our Western Australian trails, so it would be most appreciated it if you wanted to leave a review.
Add your review of Cycletrek, Donnybrook
Supported by great organisations
Trails are free and bring so many benefits to our community by providing opportunities to have fun, get fit, socialise, explore and challenge yourself. But they also have to be managed and maintained which only is made possible through terrific sponsors, donations and/or volunteering.

Through the trees
Cycletrek has a nice loop through the trees
Gnomesville?
Barry the friendly trail gnome is a wealth of knowledge and good at fixing bikes
Hand cycle racing at Cycletrek
Andrew and Daniel riding the trails. See breaktheboundary.com for more info
Jumping around the trails at cycletrek
Great views out over the ferguson valley from Cycletrek
View 5 Photos of Cycletrek, Donnybrook
Upload your photo of Cycletrek, Donnybrook
Report a Problem
You are reporting a problem for Cycletrek, Donnybrook. Please be as detailed as possible to help us appropriately identify and address the issue.