Environment
Phytophthora Dieback
Help STOP the spread of Phytophthora Dieback – Every Step Counts
The South West region of WA is one of the world's 36 recognised biodiversity hotspots hotspots - where the Earth is most biologically rich in an abundant number of unique and various flora species. These are plants found nowehere else on the planet (endemic species) and yet, are under threat. This jewel in the crown of Australia's biodiversity is under siege by Phytophthora Dieback, a soil-borne water mould which usually kills affected plants and is spread through, soil, water and root-to-root contact.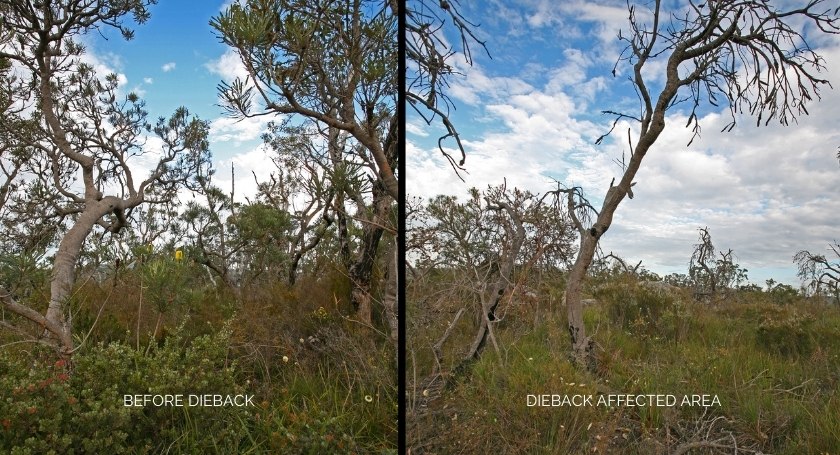 Over 40% of WA native plant species are susceptible to Phytophthora Dieback, and once an area is infested there is no cure. Many iconic ecosystems and species are susceptible, including jarrah, banksias, hakeas and grass trees. Their loss can also impact the quality of habitat and food for fauna such as the honey possum and white-tailed cockatoo.
We spread Phytophthora Dieback by transporting mud on our boots, tyre treads and outdoor gear, and your help is critical for the protection and survival of our amazing biodiverse region.
What can you do to prevent the spread of Phytophthora Dieback?
Stay on designated tracks and trails
Avoid walking in wet conditions
Clean mud from boots, tyres, camping equipment, vehicles and horse's hooves before and after your walk – start clean, stay clean.
Use Dieback hygiene stations where installed
Know the location of the nearest car wash and use it if your vehicle has been off-road.
For more information visit:
Project Dieback
www.dieback.net.au

Dieback Working Group
www.dwg.org.au
Can't find something you're looking for?
Our Explore Map tool provides a lot of detail and filters to help explorers find the best and most suitable trails. Head on over to our Explore Map for greater search capacity.