Details for trail on a map
Lights Beach Car Park, 442km (5 hours) south of Perth
Denmark Community Wind Farm access gate, Ocean Beach Road Denmark, 431km (4 hours 45 minutes, south of Perth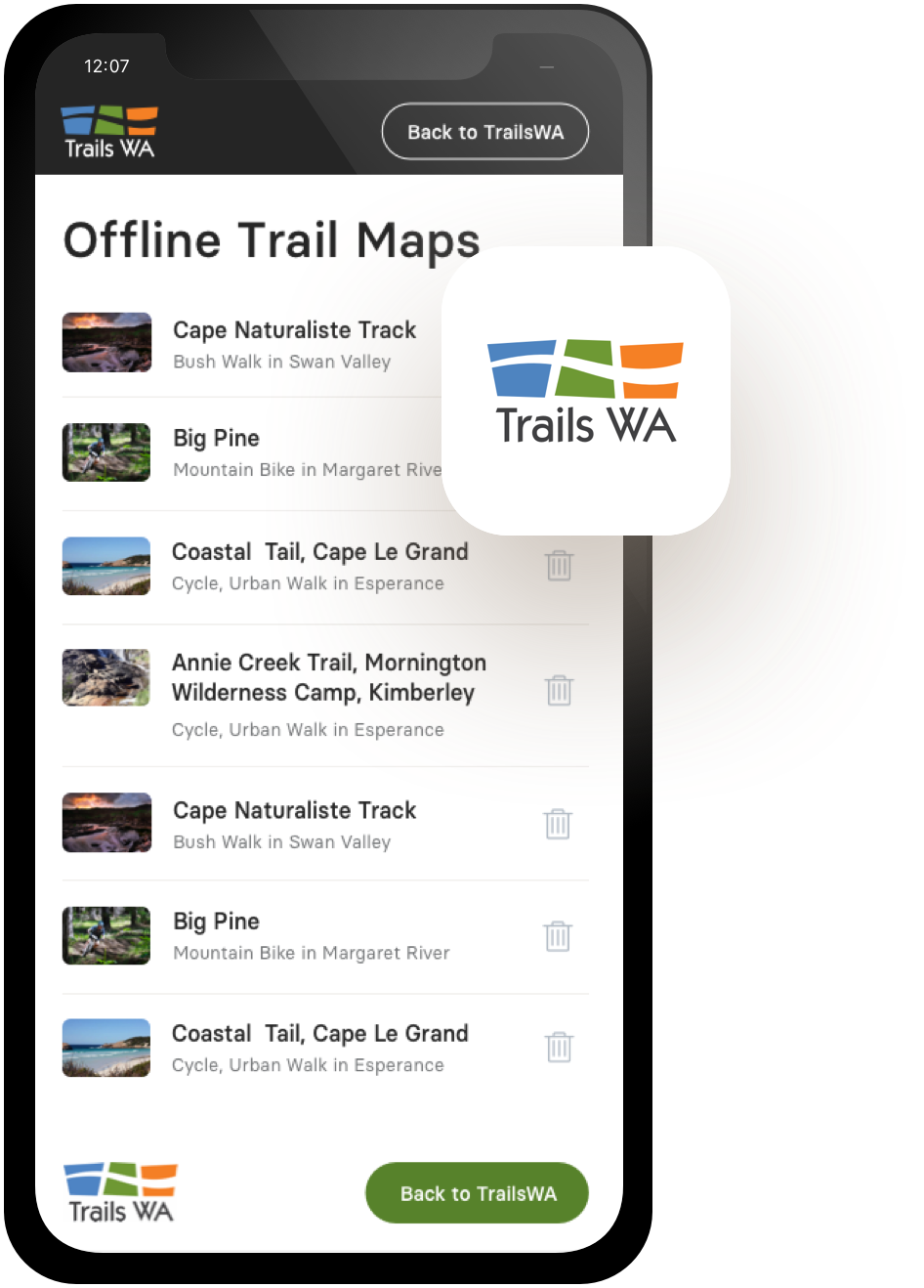 Offline Maps
TrailsWA Now supports Offline Maps. Follow the instructions below to save trail maps to your phone.
Visit trailswa.com.au on your mobile Our Offline Maps will require you to be connected to trailswa.com.au using the device you intend to take on your trip.

Add to Home Screen Save the trailswa.com.au webpage to your home screen.

Find your trail, and Save Offline Via the bookmark saved to your devices home screen, explore our trails and find the one you want - select "Save this map to use offline". You will need to be connected/online at this point.
Trails WA supports the seven principles recommended by Leave No Trace Australia for minimising your impacts when using the trails.
Learn more
About WoW Trail Denmark
This unique trail traverses the pristine coastal environment of Wilson Head Reserve linking Lights Beach with the Denmark Community Wind Farm at Ocean Beach.
The views of the coastline along the trail are spectacular with many spots to sit down on the benches provided and relax and take in the vistas. The trail passes near the Back Beach car park which also provides access to the beach.
The Wow trail is a shared trail with the Munda Biddi bike trail and the Bibbulmun Track walk trail
Denmark Visitor Centre
(08) 9848 2648
73 South Coast Highway, Denmark WA 6333
Other Links
Australia's South West

Comprehensive information on the South West region including destinations, things to see and do, accommodation and tours.
Be trail ready for WoW Trail Denmark
Here is everything you need to know before visiting this trail.
Time / Duration
Walking 90 minutes, cycling 40 minutes.
Trail Start
Lights Beach Car Park, 442km (5 hours) south of Perth
Trail End
Denmark Community Wind Farm access gate, Ocean Beach Road Denmark, 431km (4 hours 45 minutes, south of Perth
No bushwalking experience required. The track is a hardened or compacted surface and may have a gentle hill section or sections and occasional steps. Walks no greater than 10km. Suitable for families with young children.
Difficulty Notes
The trail is sealed with asphalt and has some some steep hills
Hazards & Warnings
Dogs must be on a leash at all times
Safety
Bikes should yield to pedestrians, use your bell. Walkers and cyclist should keep to the left of the trail.
Facilities
Bicycle Path
Car Park
Coach Parking
Lookouts
Parking for Disabled
Public Toilet
Toilet Facilities for Disabled
View Platform
Dog Friendly
Best time of year
September through to May


Complete WoW Trail Denmark to earn badges and points!
Earn points and badges and become a "TrailsWA Expert" by completing trails and leaving reviews.
Earn 2 points towards
your TrailsWA level
Earn the Bibbulmun Track badge when you complete this trail.

Be the first to review WoW Trail Denmark
We love to hear from people who've been on our Western Australian trails, so it would be most appreciated it if you wanted to leave a review.
Add your review of WoW Trail Denmark
Supported by great organisations
Trails are free and bring so many benefits to our community by providing opportunities to have fun, get fit, socialise, explore and challenge yourself. But they also have to be managed and maintained which only is made possible through terrific sponsors, donations and/or volunteering.

WoW Trail Denmark
View from the trail
WoW Trail Denmark
View from the trail
WoW Trail Denmark
View from trail
WoW Trail Denmark
Start of WoW trail
View 4 Photos of WoW Trail Denmark
Upload your photo of WoW Trail Denmark
Report a Problem
You are reporting a problem for WoW Trail Denmark. Please be as detailed as possible to help us appropriately identify and address the issue.