The West Kimberley Crossing
Details for trail on a map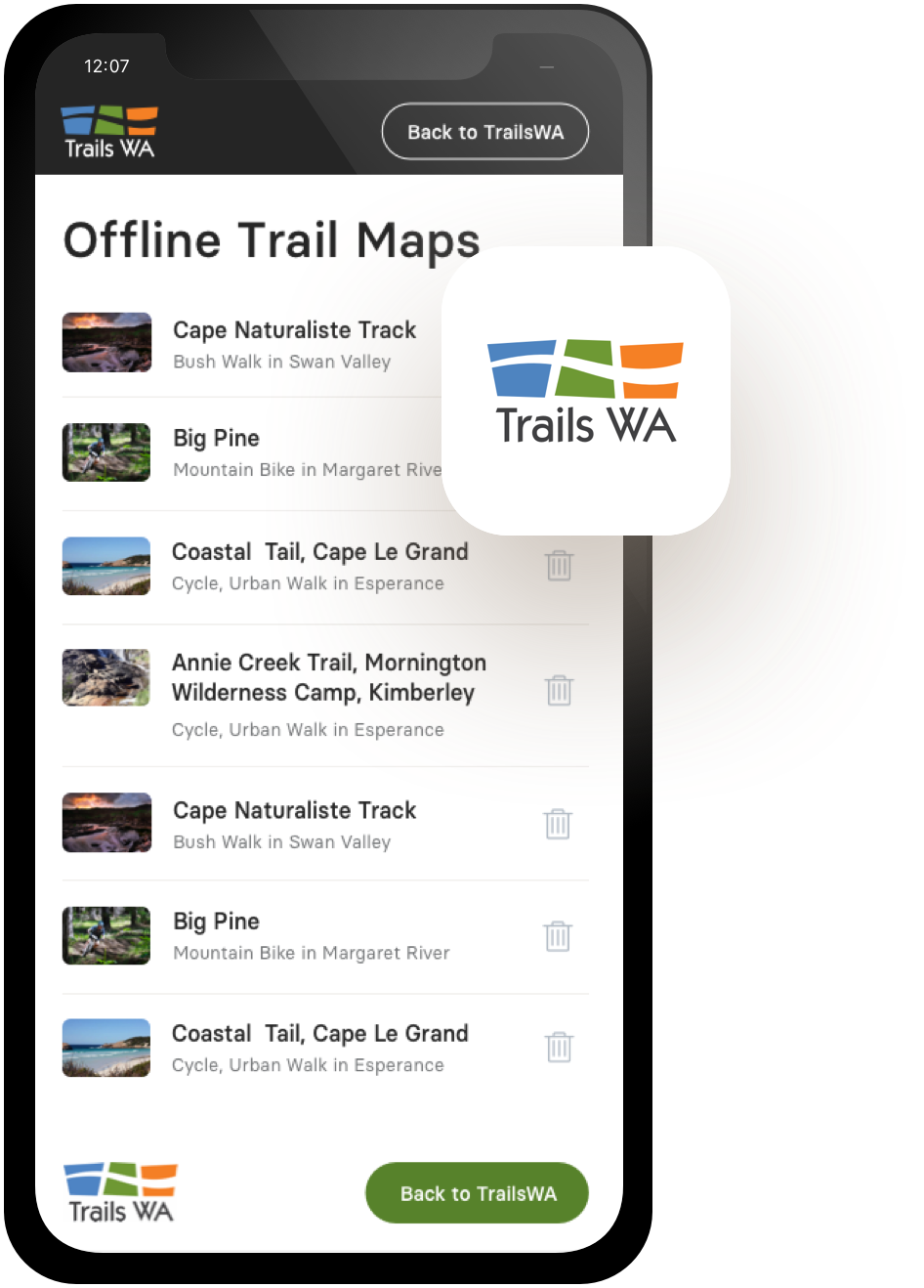 Offline Maps
TrailsWA Now supports Offline Maps. Follow the instructions below to save trail maps to your phone.
Visit trailswa.com.au on your mobile Our Offline Maps will require you to be connected to trailswa.com.au using the device you intend to take on your trip.

Add to Home Screen Save the trailswa.com.au webpage to your home screen.

Find your trail, and Save Offline Via the bookmark saved to your devices home screen, explore our trails and find the one you want - select "Save this map to use offline". You will need to be connected/online at this point.
Trails WA supports the seven principles recommended by Leave No Trace Australia for minimising your impacts when using the trails.
Learn more
About The West Kimberley Crossing
Leg 1 Broome to Derby 222km. Visit the Boab Prison Tree, Wharfinger's House Museum, Mowanjum Art and Cultural Centre, the Royal Flying Doctor Base and School of the Air.  Take a scenic flight over the world's only Horizontal Waterfalls and the islets of the Buccaneer Archipelago.
Leg 2 Derby to Fitzroy Crossing 295km. Visit Windjana Gorge National Park., Tunnel Creek National Park is WA's oldest cave system. Take a torch lit walk through the 750metre tunnel and its subterranean world of bats and fresh water crocodiles.
Leg 3 Fitzroy Crossing to Geikie Gorge 40km (return) Join the local Bunuba people for a river cruise and cultural tour of the dramatic 30-metre deep Geikie Gorge. 
Leg 4 Fitzroy Crossing to Broome 396km (+180km return to Mimbi Caves) Venture into the enchanting labryinths and cultural sites of Mimbi Caves with an indigenous guide.  Explore the exotic pearling town of Broome. Take in the beauty of a Cable Beach sunset from a camel train and witness the natural phenomenom of the Staircase to the Moon.
Visitor Information Centres
Be trail ready for The West Kimberley Crossing
Here is everything you need to know before visiting this trail.
Time / Duration
4 - 5 days
What To Pack
Group D (Drive trails) required.
What To Pack
Group D (Drive trails)
Research your trip well in advance.  Good preparation is essential as distances in Western Australia are huge and facilities are limited.  Visit the website associated with each drive trail for in-depth travel information.
Carry maps, spare parts, a first aid kit and plenty of food and water to last your journey
Visit the 'Travelling in Outback Western Australia' website for information regarding travelling in the Outback.  Permits may need to be arranged in advance to enter into some areas which are on private property.
Trail Start
Broome, 2200km north of Perth
Low Range 4WD vehicles required with standard clearance. 4WD experience or training required.
Best time of year
May to September
Fees
National Park and camping fees apply.
Trail Access
Drive from Perth to Broome, or fly from Perth to Broome.
Prohibited Items
No pets in National Parks.


Complete The West Kimberley Crossing to earn badges and points!
Earn points and badges and become a "TrailsWA Expert" by completing trails and leaving reviews.
Earn 2 points towards
your TrailsWA level

Be the first to review The West Kimberley Crossing
We love to hear from people who've been on our Western Australian trails, so it would be most appreciated it if you wanted to leave a review.
Add your review of The West Kimberley Crossing
Supported by great organisations
Trails are free and bring so many benefits to our community by providing opportunities to have fun, get fit, socialise, explore and challenge yourself. But they also have to be managed and maintained which only is made possible through terrific sponsors, donations and/or volunteering.

Windjana Gorge
Stunning colours on the rock early morning.
Windjana Gorge
A serene view across the water.
Tunnel Creek
A great swimming spot
Cable Beach Broome
Sunset at Cable Beach
View 7 Photos of The West Kimberley Crossing
Upload your photo of The West Kimberley Crossing
Report a Problem
You are reporting a problem for The West Kimberley Crossing. Please be as detailed as possible to help us appropriately identify and address the issue.