Osprey Sanctuary Zone Kayak Trail
Details for trail on a map
The trail starts from the small boat launch area in the Osprey Bay campground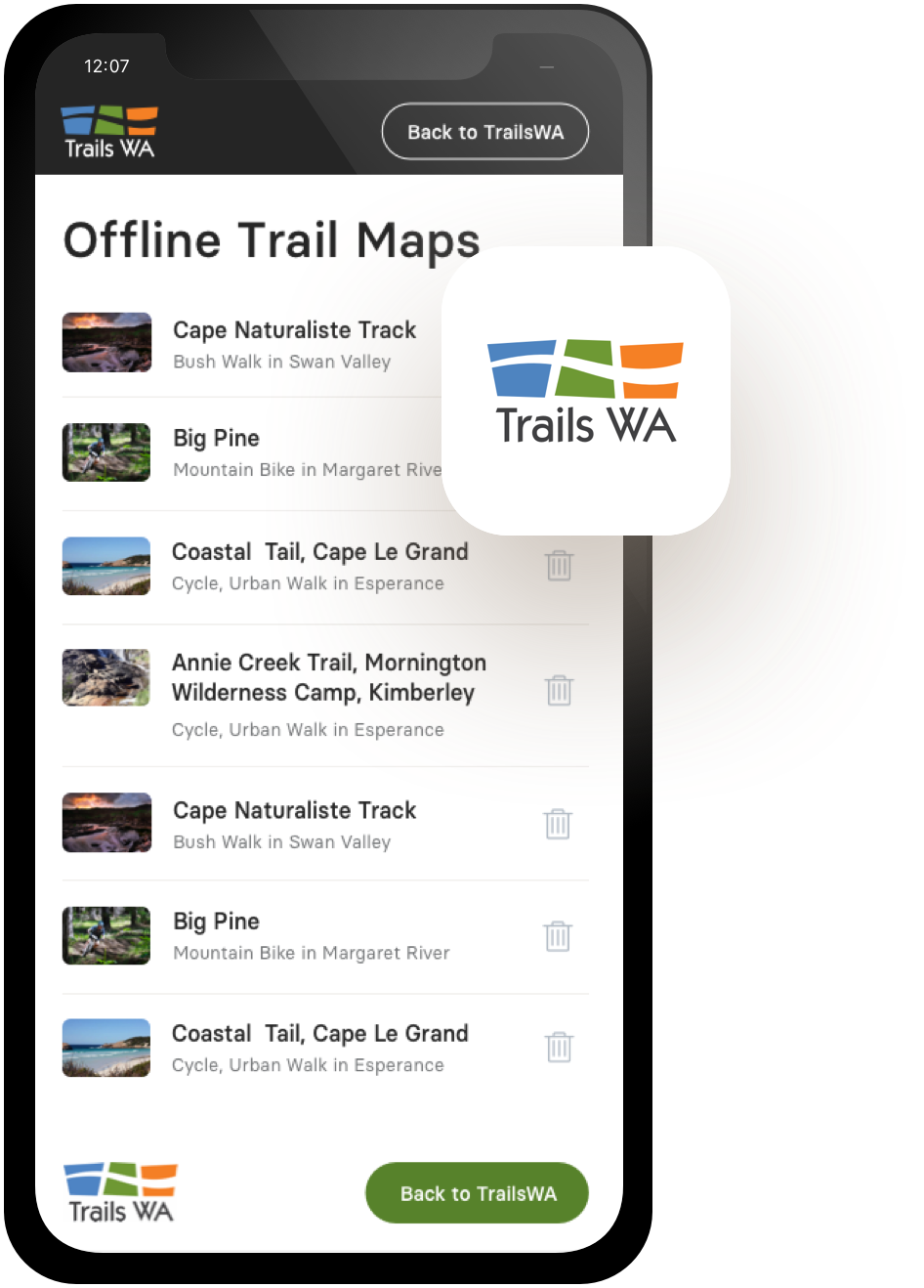 Offline Maps
TrailsWA Now supports Offline Maps. Follow the instructions below to save trail maps to your phone.
Visit trailswa.com.au on your mobile Our Offline Maps will require you to be connected to trailswa.com.au using the device you intend to take on your trip.

Add to Home Screen Save the trailswa.com.au webpage to your home screen.

Find your trail, and Save Offline Via the bookmark saved to your devices home screen, explore our trails and find the one you want - select "Save this map to use offline". You will need to be connected/online at this point.
Trails WA supports the seven principles recommended by Leave No Trace Australia for minimising your impacts when using the trails.
Learn more
About Osprey Sanctuary Zone Kayak Trail
MOORINGS:
Kayak 5 – The Lagoon: 22° 14.533'S, 113° 49.745'E;
Kayak 6 – The Bungle Bungles: 22° 14.805'S, 113° 49.744'E;
SITE INFORMATION:
Kayak 5 The Lagoon - The depth of Kayak 5 ranges from three to seven metres, and is a lagoon inside the main reef. You can complete this in a loop pattern around the inside of the reef. This is a fantastic snorkel; some of the species observed include clams, anemone and anemone fish, reef sharks, a plethora of reef fish species and several coral species including plate coral to porites bombies to large stands of staghorn in pristine condition.
Kayak 6 The Bungle Bungles - Kayak 6 ranges in depth from three to four metres. It comprises of several large porites bombies on the inside of a channel, inside the main reef. A variety of fish species may be observed including many schooling fish, and again large patches of staghorn corals can be found on the western edge of the reef.
These sites may be attempted individually or in any combination. The line on the map is for illustration purposes only. The actual route and duration is dependent on the number of sites visited, based on your own abilities.
For more info, please see the 'Kayaking Within Ningaloo Marine Park' PDF in downloads.
Be trail ready for Osprey Sanctuary Zone Kayak Trail
Here is everything you need to know before visiting this trail.
Time / Duration
Allow three hours return time, including snorkelling.
Length
Distance varies, depending on how many sites are visited
What To Pack
Group F (Paddling trails) required.
What To Pack
Group F (Paddling trails)
Plenty of water and food for duration of trip.
Sun hat, sunglasses, sunscreen (30+)
Clothes to suit the activity and potential weather conditions
Lifejacket or flotation device
Leg or paddle leash if paddling in the ocean
Additional Useful Items
SAFE KAYAK AND SNORKELLING TIPS

All sites require paddling and snorkelling experience. It is your responsibility to ensure your experience is suitable for the site. If in doubt don't go out.

Check the local weather conditions prior to your activity.

Paddle with a friend to enhance the enjoyment and safety of your adventure.

Carry adequate water, food, sunscreen and sun protection. Some return journeys may take up to three hours so you will be exposed to the elements for a significant time.

Ensure your craft has a suitable attachment to securely attach to the mooring, as well as the ability to safely secure your gear (e.g. paddle) while snorkelling.

Please ensure your craft is seaworthy and has the required safety equipment aboard as most of these sites are more than 400 metres from shore. The required safety equipment includes life jacket, flares/PLB and a bailer (if not self draining) − see the Department of Transport Paddle Safe brochure.

Always ensure someone knows where you are, and your estimated time of return. Remember to let them know when you have returned safely.

Once at the site, assess the currents prior to entry − it is recommended to snorkel into the current at the beginning of your snorkel to enable an easy return to the mooring.

The moorings hold a maximum of ten kayaks at any one time. For further information contact the Milyering Visitor Centre on (08) 9949 2808
Trail Start
The trail starts from the small boat launch area in the Osprey Bay campground
Difficulty Notes
S03 - Sheltered coastal waters with possible wind against wave or tide effects and moderate breaking seas. Possible surf entry and exits less than 1m, currents less than 4km/h, up to 5km crossings or from safe landing sites.
Hazards & Warnings
BEWARE OF CURRENTS AND WINDS AT ALL SITES. CHECK LOCAL WEATHER CONDITIONS PRIOR TO LEAVING THE SHORE.
IRRUKANDJI JELLYFISH CAN BE PRESENT AT NINGALOO - WEARING STINGER SUITS OR RASH SHIRTS CAN REDUCE THE RISK OF BEING STUNG
Safety
Please ensure your craft is seaworthy and has the required safety equipment aboard as these sites are more than 400 metres from shore and there is no mobile phone coverage in this area. The required safety equipment includes life jacket, flares/PLB and a bailer (if not self draining). See the Department of Transport Paddle Safe brochure. Drinking water is not supplied in the National Park - Please bring your own water.
Facilities
At the Osprey Campsite there is a day-use area with picnic tables and shelter/shaded area.  Long-drop toilets and car-parking is available.  This is a very popular campsite.  Campsites need to be booked well in advance to secure a site.  Bookings can be made up to 180 days before arrival.
Camping
Car Park
Picnic Area
Public Toilet
Shaded Area
Sheltered Area
Best time of year
April to November
Fees
National Park entrance fees apply
Prohibited Items
ALL MOORINGS ARE LOCATED IN SANCTUARY ZONES – NO FISHING PERMITTED
NO DOGS OR OTHER DOMESTIC ANIMALS


Complete Osprey Sanctuary Zone Kayak Trail to earn badges and points!
Earn points and badges and become a "TrailsWA Expert" by completing trails and leaving reviews.
Earn 2 points towards
your TrailsWA level

1 trail goers have rated Osprey Sanctuary Zone Kayak Trail as 5 out of 5!
We love to hear from people who've been on our Western Australian trails, so it would be most appreciated it if you wanted to leave a review.
Add your review of Osprey Sanctuary Zone Kayak Trail
Daniel Wieman rated Osprey Sanctuary Zone Kayak Trail a 5 out of 5
Absolutely stunningly beautiful
Supported by great organisations
Trails are free and bring so many benefits to our community by providing opportunities to have fun, get fit, socialise, explore and challenge yourself. But they also have to be managed and maintained which only is made possible through terrific sponsors, donations and/or volunteering.

Ready to leap in from a Sit-on-Top Kayak
Easy Access to the Water
The water is just a short walk form the car park
Ningaloo Reef
Snorkel the amazing underwater world of Ningaloo Reef
Clearly Marked Buoys
There are two buoys on this trail where you can tie up the kayak and go for a snorkel
Snorkelling off Osprey Kayak Moorings
Launching Kayaks at Osprey Bay
Tour Group Snorkelling off the Kayak Moorings
Each Mooring can take 10 kayaks
On Kayak Expedition at Ningaloo
Set up with a Bow Line to connect on
View 11 Photos of Osprey Sanctuary Zone Kayak Trail
Upload your photo of Osprey Sanctuary Zone Kayak Trail
Report a Problem
You are reporting a problem for Osprey Sanctuary Zone Kayak Trail. Please be as detailed as possible to help us appropriately identify and address the issue.