Munda Biddi Trail, Mundaring to Albany
Details for trail on a map
Multiple access points. Northern terminus is at Sculpture Park, Mundaring, 30km (45 minutes) north east of Perth
Southern Terminus is next to the Visitor Information Centre, 221 York Street, Albany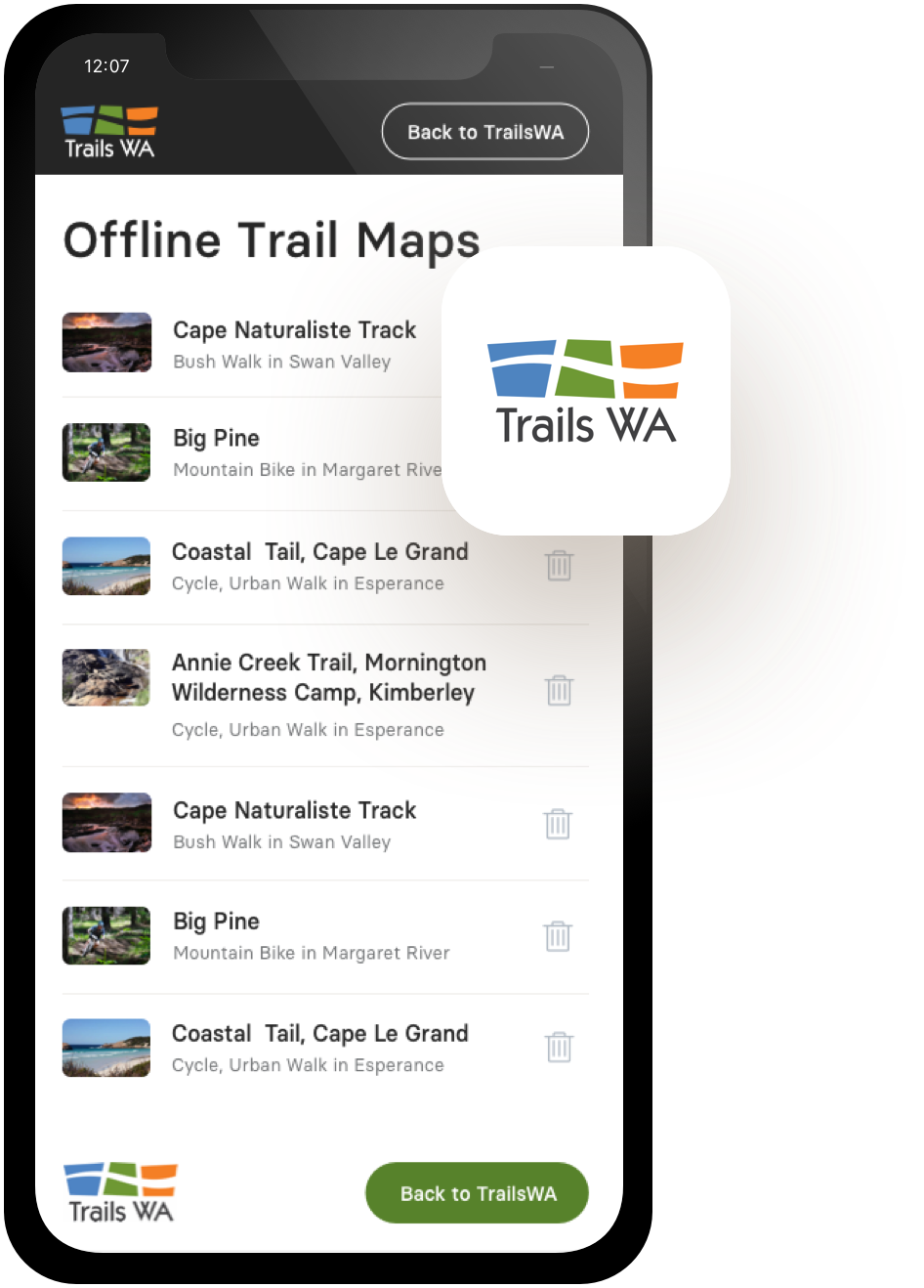 Offline Maps
TrailsWA Now supports Offline Maps. Follow the instructions below to save trail maps to your phone.
Visit trailswa.com.au on your mobile Our Offline Maps will require you to be connected to trailswa.com.au using the device you intend to take on your trip.

Add to Home Screen Save the trailswa.com.au webpage to your home screen.

Find your trail, and Save Offline Via the bookmark saved to your devices home screen, explore our trails and find the one you want - select "Save this map to use offline". You will need to be connected/online at this point.
Trails WA supports the seven principles recommended by Leave No Trace Australia for minimising your impacts when using the trails.
Learn more
About Munda Biddi Trail, Mundaring to Albany
Every day out on the Munda Biddi Trail promises a different experience. Cycle through towering eucalyptus forests and ancient, unspoiled bushland, discovering plants and wildlife not found anywhere else in the world as you enter one of the world's 25 biodiversity hotspots. Camp out in one of the twelve purpose built shelters spaced a day's ride apart or stay in quaint country towns. Learn about Aboriginal culture and the rich heritage of the region as you visit wineries and attractions of the South-West.
In general, the northern section of the Munda Biddi Trail will be challenging as you negotiate in and out of the river valleys in the Darling Scarp. Don't hesitate to get off and walk your bike on the hills and take in the scenery at a relaxed pace. Purpose-built cycle-friendly camp sites have been built every 35-40km between towns.
The Sculpture Park in Mundaring forms the northern terminus of the Munda Biddi Trail. Located 30 kilometres north-east out of the city of Perth, Mundaring is about a 45 minute drive into the heart of the hills. Take Great Eastern Highway, through Midland and make the climb up Greenmount Hill where you will begin to feel the change in the air!
The most convenient way to get to the Trail is with your own vehicle or to have someone drop you off. Vehicle access points are marked with a red car on the Munda Biddi Trail maps. You can do an out-and-back trip or arrange to leave a car at either end of your ride.
The Trail is well marked with trail markers positioned on yellow posts. As a general rule trail markers are situated every few hundred meters, or when required at critical intersections to point you in the right direction. Riders are encouraged to always carry a map to ensure you stay on track and are advised to check the Munda Biddi Trail or the Department of Parks and Wildlife website for the latest track and trail conditions.
Visit the official Munda Biddi Trail website for planning information and all you need to know about the trail.
DOWNLOADABLE ROUTE FILES
The KML file depicted on the map may not be the most up-to-date.
Check under LINKS TAB for the most up-to-date downloadable route file for the long trails: Munda Biddi, Bibbulmun Track and Cape to Cape Track.
Expand your trip and enjoy great businesses nearby
Paddy Pallin Perth
Australia's most experienced and trusted outdoor fitter since 1930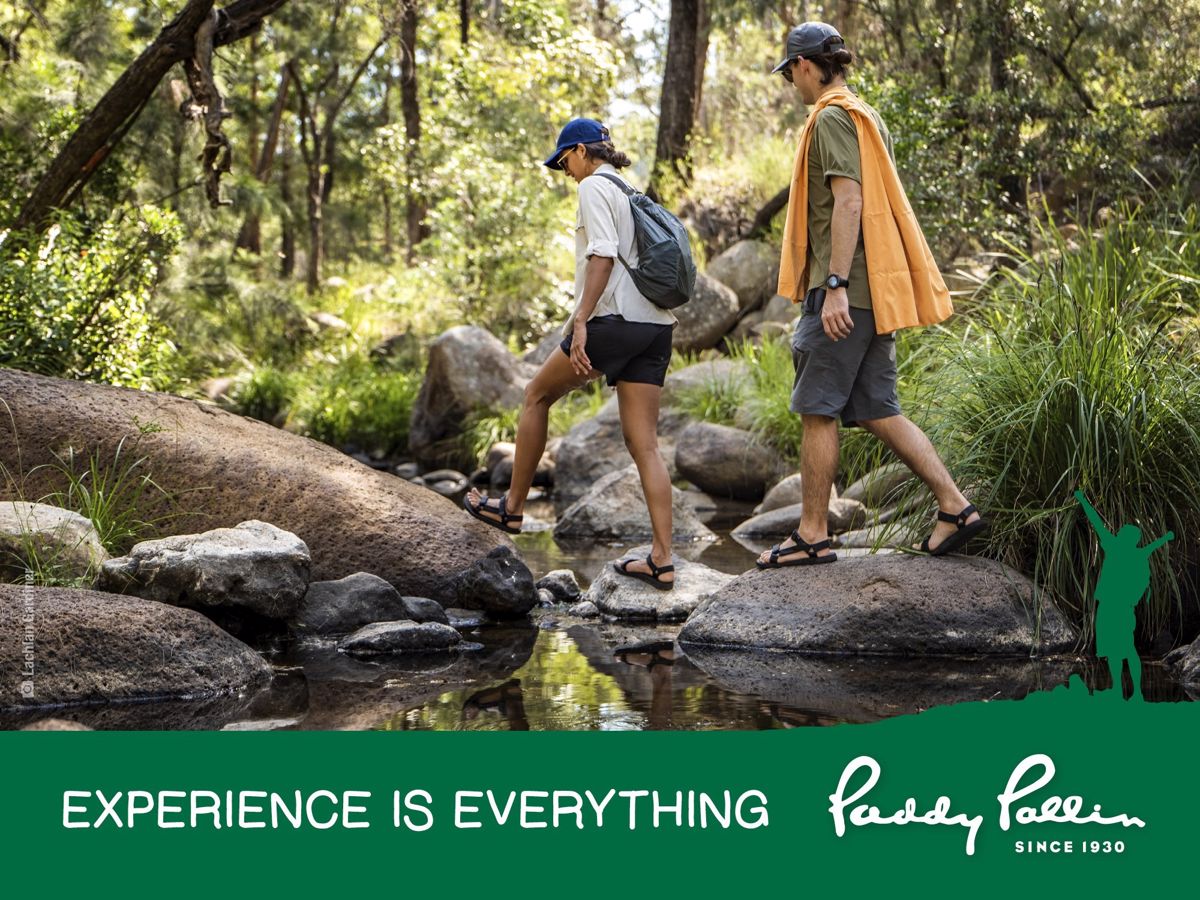 Parkerville Tavern
Situated in the Perth Hills, on the doorstep of John Forrest National Park, The Parkerville Tavern is a great Western Australian favourite. Enjoy the ambience of Perth's best beer garden.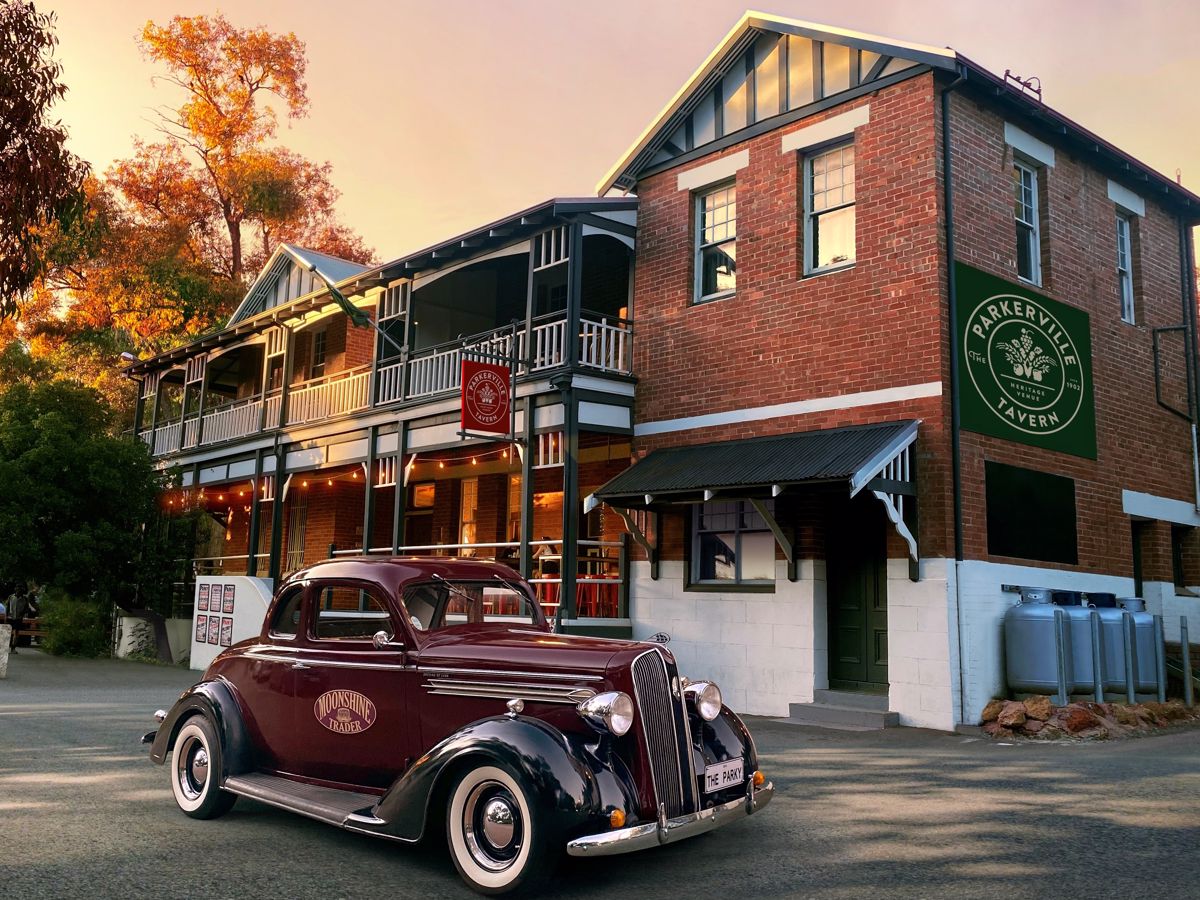 Be trail ready for Munda Biddi Trail, Mundaring to Albany
Here is everything you need to know before visiting this trail.
Time / Duration
Time depends on the individual itinerary.
Length
From five to 1070 kilometers depending on the time you have available and where you choose to ride.
What To Pack
Group C (Mountain bike trails) required.
What To Pack
Group C (Mountain bike trails)
Group A and B items (see Trail Tips) plus
Gloves to prevent blisters
Spare inner tubes or puncture repair kit, pump, tool kit
Mountain bike shoes and clipless pedals are recommended
Additional Useful Items
Maps are available from the Munda Biddi Trail Foundation, Department of Biodiversity, Conservation ad Attractions, visitor information centres listed below and outdoor equipment stores. Additional planning information and equipment hire is available from the Munda Biddi Trail Foundation.
Trail Start
Multiple access points. Northern terminus is at Sculpture Park, Mundaring, 30km (45 minutes) north east of Perth
Trail End
Southern Terminus is next to the Visitor Information Centre, 221 York Street, Albany
Difficulty Notes
Easy to difficulty depending on the length and section of trail. Refer to terrain maps for more detailed information.
Hazards & Warnings
Check latest trail conditions
Facilities
Track camp sites have a composting toilet, two water tanks, picnic tables, undercover bike storage facility, sleeping quarters, and cleared tent sites.
Bicycle Rack
Camping
Picnic Area
Public Toilet
Shaded Area
Sheltered Area
Water Access Points
Best time of year
August to October after the winter rain to experience the trail at it's best; with a firm trail surface and the forests green and alive with colourful wildflowers. West Australia's mild winters provide pleasant riding conditions April through June.
Trail Access
Road or bus to Mundaring the northern trail head or Albany the southern trail head by road, air or bus.
Prohibited Items
No pets or vehicles


Complete Munda Biddi Trail, Mundaring to Albany to earn badges and points!
Earn points and badges and become a "TrailsWA Expert" by completing trails and leaving reviews.
Earn 2 points towards
your TrailsWA level
Earn the Mountain Biker badge when you complete this trail.

5 trail goers have rated Munda Biddi Trail, Mundaring to Albany as 4.2 out of 5!
We love to hear from people who've been on our Western Australian trails, so it would be most appreciated it if you wanted to leave a review.
Add your review of Munda Biddi Trail, Mundaring to Albany
Eilidh Graham rated Munda Biddi Trail, Mundaring to Albany a 4 out of 5
I give this trail a 4 for trail quality, but a solid 5 for experience!

Where else in the world can you cycle through ever changing ecosystems on a designated mountain bike trail for over 1,000km? The south west corner of Western Australia is truly exceptional and a wonder to behold. The fauna, flora, geology, topography and wonderful people you meet along the way make this an adventure to remember! It is challenging, exhilarating, exhausting, beautiful, bumpy, smooth, fast, slow, flow, technical, sandy, climbing, descending, wet, dry, windy and sunny. You will experience everything, including many ups and downs, both physically and mentally. This is what adventure seekers set out to experience though, no? The shelters are fantastic. The availability of water (season dependant) is plentiful. Go as light as you can, without neglecting the essentials, it can get very remote if you are travelling alone and if there is not at least one section you need to push your bike up a hill you are officially the fittest person on the planet. You will never be able to pick the perfect bike for the whole trail, so go with what you are most comfortable on and just push through the challenges and enjoy the days that you are cruising. Even if you get to the end and hated it, I can assure you, once the aches and pains (in the butt) have eased you will be reminiscing, regaling tales and planning when you will be visiting the Munda Biddi again.

Happy peddling!

Top tip: Wildflower season is the perfect time to cycle the trail. The flowers are spectacular and they are the perfect distraction on the climbs.
Wendy Clarke rated Munda Biddi Trail, Mundaring to Albany a 5 out of 5
After walking the Bibbulmun Track I had to ride the Munda Biddi. The Southern Western Australian bush is fantastic. Hubby & I rode in Sept 2016 and loved every minute. It was challenging in parts and pushed our bodies to the limits at times. I loved the fact that we rode thru a town every couple of days and could support the local pubs along the way. Also no need to carry 8 days or so of food. Would do it all again tomorrow.
Lee lee rated Munda Biddi Trail, Mundaring to Albany a 4 out of 5
We did the Munda Biddi from Donnelly River to Manjimup, 1 night on the trail. Definitely an experience like no other and not only physically challenging however mentally too. Absolutely beautiful dense forest through this section - karri and jarrah trees. We completed it in August and although it didn't rain it was cold, however, we didn't feel it at all. The crisp air was pleasant during the cycle. The trail zig zags up a hill to the Karta Burnu hut and the view is amazing, I think we climbed 100 metres maybe. We walked a lot of the uphill sections, the trailers struggled with the sharp turns. The evening spent in the middle of the forest was definitely a highlight - the silence and darkness - incredible. From the hut to Manjimup the trail is much easier passing alongside fruit orchards and through forest sections. It's definitely an adventure, really is. Go at your own pace and be happy with it. Bring wet weather gear. The forest in this part of WA is best enjoyed in winter!
E2E Leanne rated Munda Biddi Trail, Mundaring to Albany a 4 out of 5
The ADVENTURE of a lifetime!
Summing up the Munda Biddi Trail, if you had to choose one word ''adventure'' would do it, I agree with Paul.

I had the best time conquering the Trail, Mundaring to Albany 9-24th August 2014 with my trail buddy Mark. Not my idea of fun (says my husband Bill), riding 1054 kilometres in 16 days. Ideally take three to four weeks and have a holiday; taking the time along the way to explore the many regional towns that the Trail passes through and also ride it at a leisurely pace and allow yourself time to enjoy and appreciate the vast areas of unspoilt forests and bushland that surrounds the Munda Biddi Trail.

This was the third time that I had cycled the Munda Biddi Trail; Nannup to Mundaring over two weeks in September 2010 and again two weeks cycling Nannup to Albany in October 2014. On these two occasions it was a HOLIDAY, where I scheduled time to explore the towns and enjoy the scenery. On our allocated rest days apart from exploring I enjoyed a massage, serviced the bike, did the obligatory washing and stocked up on food for the next camp site stay.
My recent MBT ride was a planned personal CHALLENGE, and so it was with no rest days and unsupported. Each of us were carrying two rear panniers and a hydration back pack adding an extra 15-20 kilograms to the bike, depending on the amount of food we were carrying.

It was a memorable ADVENTURE with many challenges along the way, especially from Mundaring to Dandalup as you negotiate pea gravel (marble size pebbles) and climb in and out of several river crossings and dams. Remember after every uphill comes a downhill, ride carefully and don't be too proud to get off and walk.

My favourite section (if I had to choose) is Jinung Beigaup Camp Site (one of 12 purpose built camp sites) to Denmark. Heading south you get great views of the Southern Ocean as you descend a fast downhill bitumen section into William Bay National Park, arriving at Greens Pool which is a great spot for a swim to wash off the dust. I love this area as the Trail follows undulating, winding single track and quite country back roads which provide coastal and river views most of the way into Denmark.

My advice is to prepare and plan. Make sure you and your bike are fit (and up to the challenge) and avoid riding alone, find a friend to ride with!
Paul Rosser rated Munda Biddi Trail, Mundaring to Albany a 4 out of 5
This is a major challenge for anyone. 1000km can be as hard as you want by just reducing the number of day you take. Trail conditions vary significantly day by day from rocky technical riding to free flowing fire roads thru forests, sand, coastal runs etc. Lots of pubs on the way ensure a plentiful and fun way to break up the days. Bucket list for anyone that cannot and will not fail to satisfy. One word to sum this up is "Adventure"
Supported by great organisations
Trails are free and bring so many benefits to our community by providing opportunities to have fun, get fit, socialise, explore and challenge yourself. But they also have to be managed and maintained which only is made possible through terrific sponsors, donations and/or volunteering.

Yarri Camp Site
Yarri Camp Site on the Munda Biddi Trail, 45 kilometers north of Collie - refer to Munda Biddi Trail map 3.
Riding through jarrah forest on the Munda Biddi Trail
View 5 Photos of Munda Biddi Trail, Mundaring to Albany
Upload your photo of Munda Biddi Trail, Mundaring to Albany
Report a Problem
You are reporting a problem for Munda Biddi Trail, Mundaring to Albany. Please be as detailed as possible to help us appropriately identify and address the issue.