Kingsbury Drive Road Cycling
Details for trail on a map
Corner of Jarrahdale Road & Kingsbury Drive
Corner South West Hwy & Kingsbury Drive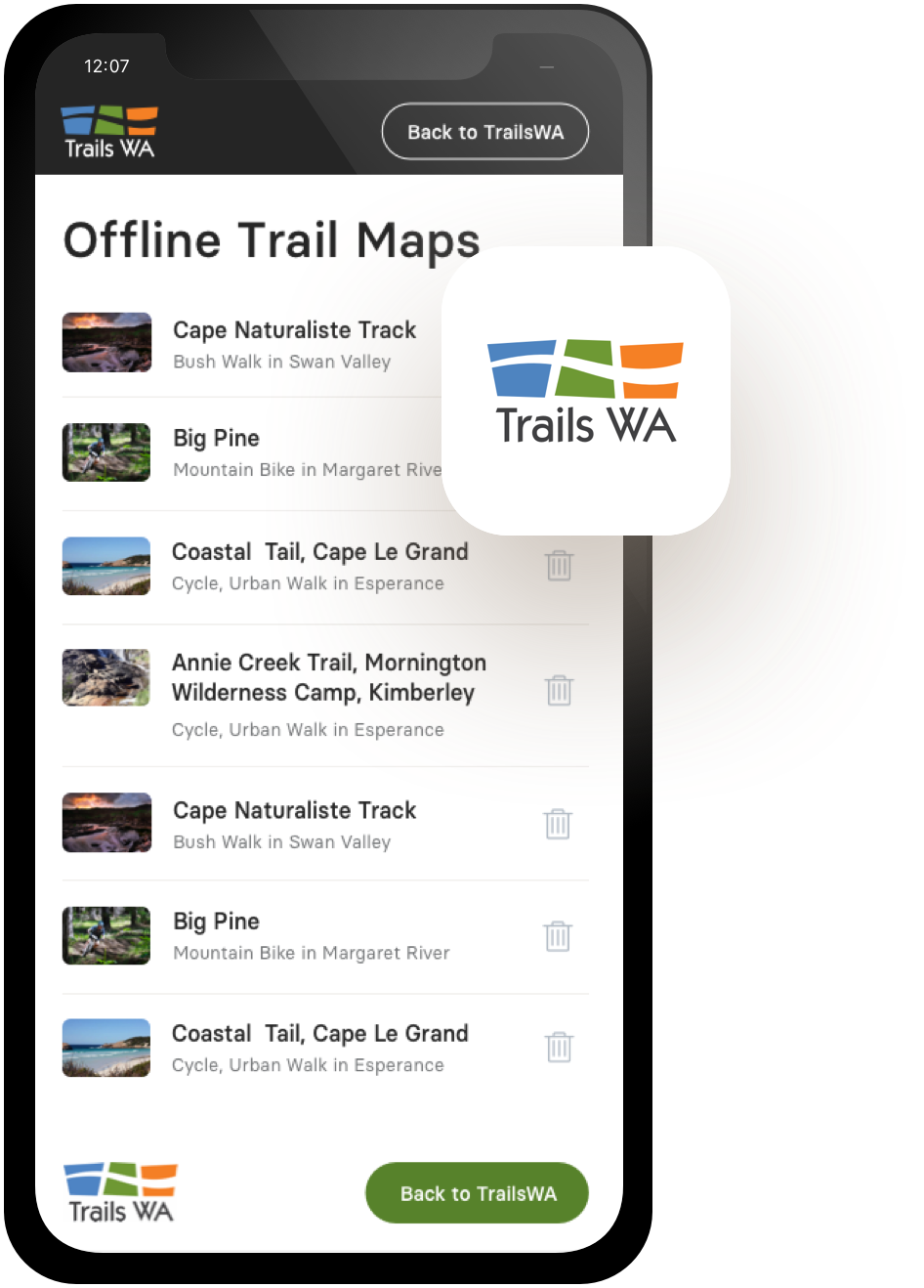 Offline Maps
TrailsWA Now supports Offline Maps. Follow the instructions below to save trail maps to your phone.
Visit trailswa.com.au on your mobile Our Offline Maps will require you to be connected to trailswa.com.au using the device you intend to take on your trip.

Add to Home Screen Save the trailswa.com.au webpage to your home screen.

Find your trail, and Save Offline Via the bookmark saved to your devices home screen, explore our trails and find the one you want - select "Save this map to use offline". You will need to be connected/online at this point.
Trails WA supports the seven principles recommended by Leave No Trace Australia for minimising your impacts when using the trails.
Learn more
About Kingsbury Drive Road Cycling
As you head East out of Jarrahdale, turn right into Kingsbury Drive for your descent out of the Darling Range via the Serpentine Dam. Along this route, you will have the opportunity to admire the seasons expressed by the occasional orchard. You will pass the turn off to Pipehead Dam completed in 1957. This was the first stage of the Serpentine Dam, constructed for the purpose of supplying water to a rapidly expanding Kwinana Industrial area. 27 km further on, is the Serpentine Dam.  Construction of this Dam was completed in 1961. There are numerous picnic spots and free barbecue facilities available, as well as a Café and public toilet facilities in two locations.
Crossing the Serpentine Dam wall, Kingsbury Drive continues, offering the peace that only a great expanse of Jarrah and Marri Forest can. Past the forest expanse, you will see the Karnet Prison Farm on your left and further down on the same side is the Bodhinyana Buddhist Monastery.
Your cycle closes with spectacular views over the Darling Scarp before reaching South Western Highway.
You can also connect Kingsbury Drive Road Cycling to Nettleton Drive Road Cycling which starts in Byford, offering a great experience through quiet backroads for enthusiast road cyclists, with a mix of uphill and downhill for a total length of 45.4km from Byford to Serpentine.
Other Links
Experience Perth

Comprehensive information on the Perth region including destinations, things to see and do, accommodation and tours.

Be trail ready for Kingsbury Drive Road Cycling
Here is everything you need to know before visiting this trail.
Time / Duration
up to 3 hours.
What To Pack
Group C (Mountain bike trails) required.
What To Pack
Group C (Mountain bike trails)
Group A and B items (see Trail Tips) plus
Gloves to prevent blisters
Spare inner tubes or puncture repair kit, pump, tool kit
Mountain bike shoes and clipless pedals are recommended
Additional Useful Items
Water
Trail Start
Corner of Jarrahdale Road & Kingsbury Drive
Trail End
Corner South West Hwy & Kingsbury Drive
Difficulty Notes
Undulating course with many hills.
Facilities
Bicycle Locker
Cafe
Car Park
Picnic Area
Public Toilet
Shaded Area
Sheltered Area
Shop
Best time of year
All year round
Trail Access
Access by car unless you live nearby.


Complete Kingsbury Drive Road Cycling to earn badges and points!
Earn points and badges and become a "TrailsWA Expert" by completing trails and leaving reviews.
Earn 2 points towards
your TrailsWA level

Be the first to review Kingsbury Drive Road Cycling
We love to hear from people who've been on our Western Australian trails, so it would be most appreciated it if you wanted to leave a review.
Add your review of Kingsbury Drive Road Cycling
Supported by great organisations
Trails are free and bring so many benefits to our community by providing opportunities to have fun, get fit, socialise, explore and challenge yourself. But they also have to be managed and maintained which only is made possible through terrific sponsors, donations and/or volunteering.

View 7 Photos of Kingsbury Drive Road Cycling
Upload your photo of Kingsbury Drive Road Cycling
Report a Problem
You are reporting a problem for Kingsbury Drive Road Cycling. Please be as detailed as possible to help us appropriately identify and address the issue.