Details for trail on a map
Harris Dam, 192 km (2 hours and 15 minutes) South of Perth. 15 minutes from Collie
Harris Dam Campsite (walker access only)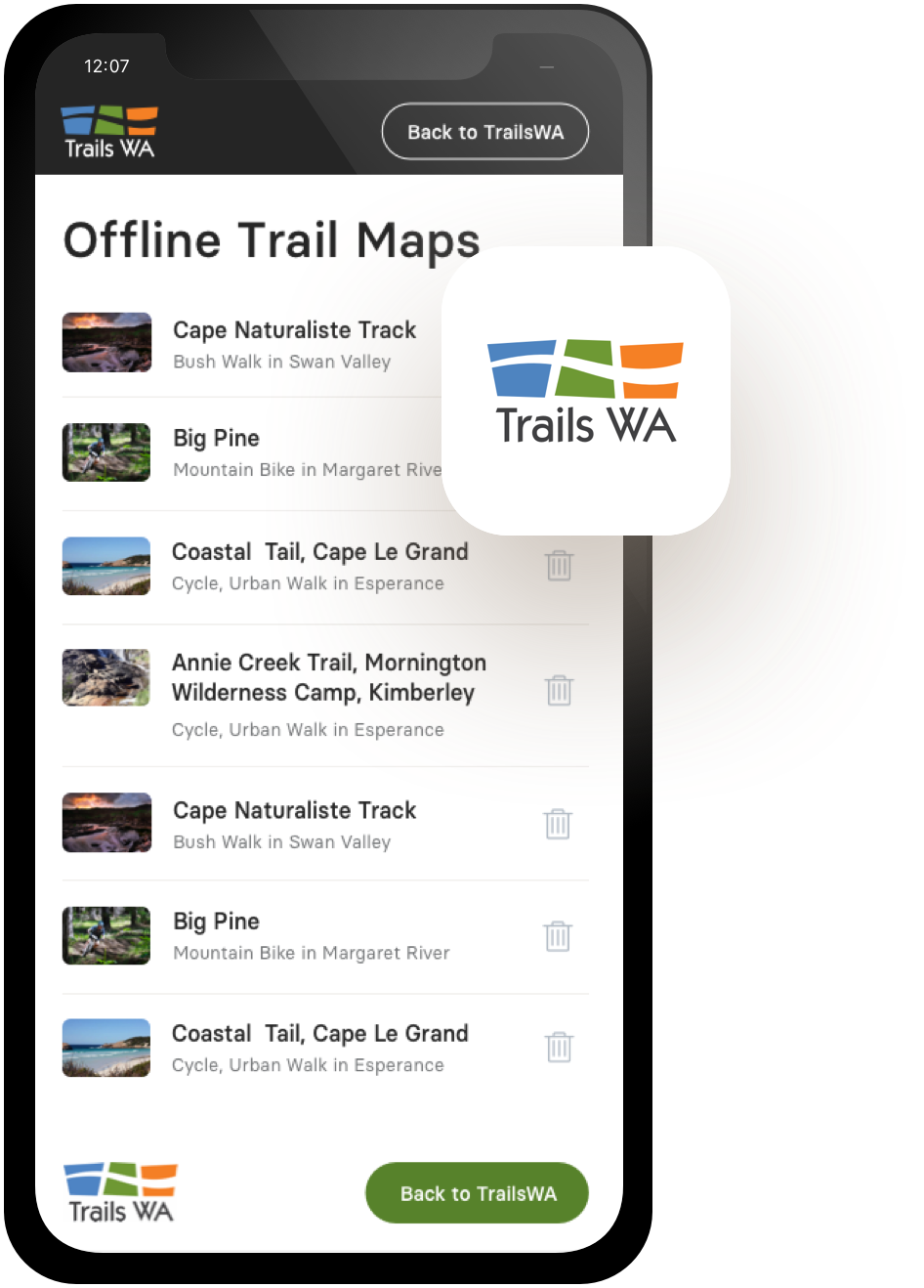 Offline Maps
TrailsWA Now supports Offline Maps. Follow the instructions below to save trail maps to your phone.
Visit trailswa.com.au on your mobile Our Offline Maps will require you to be connected to trailswa.com.au using the device you intend to take on your trip.

Add to Home Screen Save the trailswa.com.au webpage to your home screen.

Find your trail, and Save Offline Via the bookmark saved to your devices home screen, explore our trails and find the one you want - select "Save this map to use offline". You will need to be connected/online at this point.
You can park your car here while walking the trail
Rabbit orchids (Caladenia menziesii) are identified by the red ear-like petals on the flowers, which appear from September to October. The scientific name is for botanist Archibald Menzies who collected the species during Vancouver's voyage of 1790-95. Yellow flag (Patersonia umbrosa) is a perennial herb, 30-90cm high with strappy green leaves to 60cm long and yellow or purple flowers from August to December. The unusual flowers of bird orchid (Pterostylis barbata) appear from July to early October. Milkwort (Comesperma virgatum) is an erect, slender shrub, 0.3-1.6 metres high with pink flowers from September to March. Western grey kangaroos (Macropus fuliginosus) are common in this area. They weigh 28-54 kg and are 0.84-1.1m in length, with a 80-100 cm tail, and stand approximately 1.3m tall. Motorbike frogs (Litoria moorei) breed from early spring through to late summer. The male's mating call sounds like a motorbike changing gear. Their diet consists mainly of arthropods, but also includes smaller frogs, including juveniles of the same species. The blue tongue lizard (Tiliqua rugosa) has a heavily armoured body and can be found in various colours, ranging from dark brown to cream. It has a short, wide stumpy tail that resembles its head and may confuse predators. The tail also contains fat reserves, which are drawn upon during hibernation in winter. This skink is an omnivore that eat snails and plants and spends much of its time browsing through vegetation for food. It is often seen sunning itself on roadsides or other paved areas.
Harris Dam was opened in 1990 to supply high quality drinking water to the Great Southern region. A delightful picnic site at the base of the dam wall offers barbeques, tables, sections of boardwalk and toilets.
You can walk across the dam wall to view the overflow during winter. You obtain good views across Lake Ballingall, formed by the damming of the Harris River in 1990 to supply drinking water to the Great Southern after the water in nearby Wellington Dam became too saline. The dam wall is 34m above ground level and the storage capacity is 72,000 ML. The area surrounding the dam is a 'water catchment' and a natural conservation area. To protect the quality of the water and the flora and fauna of these areas, please keep to the paths. Please note that no water-based activities, including wading, swimming, fishing, marroning and boating, are permitted. Camping is also prohibited here.
On this small footbridge in 1997, the then Premier of Western Australia, the Hon. Richard Court, opened the northern half of the new Bibbulmun Track.
Named after the Dam, the Harris Dam shelter was built by the Collie Combined Service Clubs in 1996. The Stretch design sleeps 12.
Trails WA supports the seven principles recommended by Leave No Trace Australia for minimising your impacts when using the trails.
Learn more
About Harris Dam Walk, Collie
This is one of many day walks possible on the Bibbulmun Track, which stretches 1000km from Kalamunda on the outskirts of Perth, to the historic town of Albany on the south coast.
This day walk starts from Lake Ballingall and Harris Dam. You can walk across the dam wall to view the overflow during winter, and then walk through the parks and gardens to the picnic area. From the dam the Track enters mixed forest of jarrah and marri, with an understorey of many flowering shrubs and orchids. It takes around an hour to reach the Harris Dam Campsite, the perfect spot for lunch.
If staying overnight, the shelter sleeps up to 12 - but always take a tent in case its full. Groups of 8 or more should register with the Bibbulmun Track Foundation to prevent overcrowding.
The Bibbulmun Track offers a wide range of experiences, from a gentle stroll to enjoy the peace and beauty of the natural environment, to an epic eight week adventure camping out at the 49 campsites and enjoying the hospitality of nine communities along the way. Those that walk every step of the way can be registered as end-to-enders.
Collie Visitor Centre
(08) 9734 2051
156 Throssell Street, Collie WA 6225
Other Links
Australia's South West

Comprehensive information on the South West region including destinations, things to see and do, accommodation and tours.
Be trail ready for Harris Dam Walk, Collie
Here is everything you need to know before visiting this trail.
Time / Duration
4 hours return
What To Pack
Group B (Bushwalks and/or longer trails) required.
What To Pack
Group B (Bushwalks and/or longer trails)
Minimum 2 litres of water per person per day
Sturdy shoes
Sun hat or bike helmet (compulsory in WA)
Sunglasses, sunscreen (30+) and insect repellant
Binoculars and camera (optional)
Map or guide book where suggested
Snacks and/or lunch depending on length of trail
Clothes to suit the activity and potential weather conditions including a water/windproof jacket
First Aid kit
Trail Start
Harris Dam, 192 km (2 hours and 15 minutes) South of Perth. 15 minutes from Collie
Trail End
Harris Dam Campsite (walker access only)
No bushwalking experience required. The track is a hardened or compacted surface and may have a gentle hill section or sections and occasional steps. Walks no greater than 10km. Suitable for families with young children.
Facilities
The picnic site at the base of the dam wall has barbecues, tables and toilets. There's a toilet and water tank at Harris Dam campsite. Please take your own water and leave the tank water for long distance walkers.
BBQ Facilities
Camping
Car Park
Picnic Area
Public Toilet
Shaded Area
Water Access Points
Best time of year
April to December


Complete Harris Dam Walk, Collie to earn badges and points!
Earn points and badges and become a "TrailsWA Expert" by completing trails and leaving reviews.
Earn 2 points towards
your TrailsWA level
Earn the Bibbulmun Track badge when you complete this trail.

Be the first to review Harris Dam Walk, Collie
We love to hear from people who've been on our Western Australian trails, so it would be most appreciated it if you wanted to leave a review.
Add your review of Harris Dam Walk, Collie
Supported by great organisations
Trails are free and bring so many benefits to our community by providing opportunities to have fun, get fit, socialise, explore and challenge yourself. But they also have to be managed and maintained which only is made possible through terrific sponsors, donations and/or volunteering.

Harris Dam
The Harris Dam is surrounded by beautiful forest land
Harris Dam Campsite
Up to 12 people are able to sleep in the Harris Dam Campsite shelter.
Motorbike frog (Litoria moorei)
These frogs breed from early spring through to late summer. The male's mating call sounds like a motorbike changing gear. Their diet consists mainly of arthropods, but also includes smaller frogs, including juveniles of the same species.
View 3 Photos of Harris Dam Walk, Collie
Upload your photo of Harris Dam Walk, Collie
Report a Problem
You are reporting a problem for Harris Dam Walk, Collie. Please be as detailed as possible to help us appropriately identify and address the issue.