Dillie Creek, Charnley Station, Kimberley
Details for trail on a map
Car park at Charnley Station is 300km east of Derby, Derby is 2400km north of Perth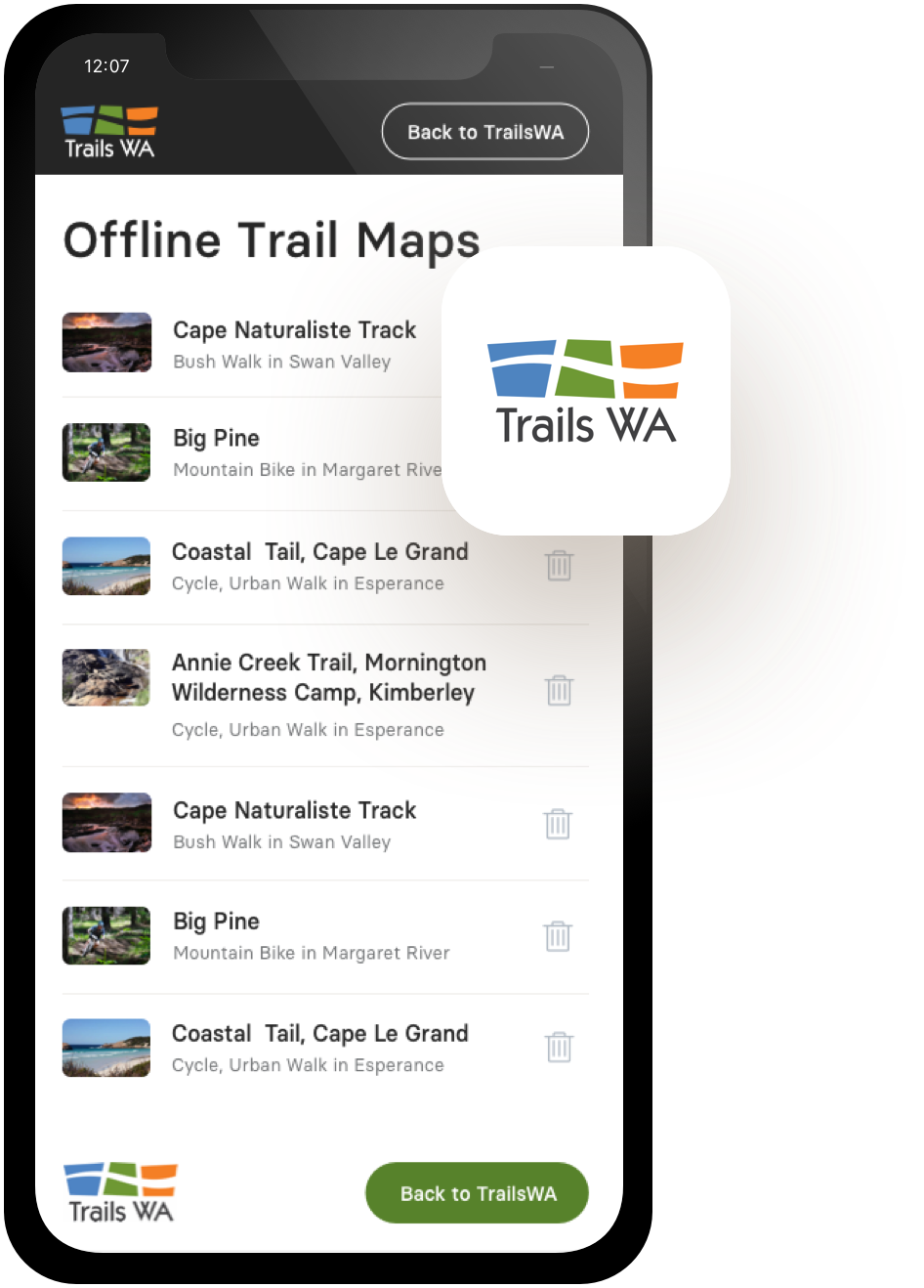 Offline Maps
TrailsWA Now supports Offline Maps. Follow the instructions below to save trail maps to your phone.
Visit trailswa.com.au on your mobile Our Offline Maps will require you to be connected to trailswa.com.au using the device you intend to take on your trip.

Add to Home Screen Save the trailswa.com.au webpage to your home screen.

Find your trail, and Save Offline Via the bookmark saved to your devices home screen, explore our trails and find the one you want - select "Save this map to use offline". You will need to be connected/online at this point.
Trails WA supports the seven principles recommended by Leave No Trace Australia for minimising your impacts when using the trails.
Learn more
About Dillie Creek, Charnley Station, Kimberley
Dillie Gorge Trail is short on distance at 150metres, but you do need to do a little rock scrambling to get to get there, but it's worth the effort. Like all trails on Charnley River-Artesian Range Wildlife Sanctuary, it is well marked.
The gorge is wide and not particularly deep, the main highlight being the surprisingly large freshwater pool.  Because of its size, the pool is a great spot for swimming.
There are two canoes located here which can be used after payment made at the Charnley River Wilderness Camp office. All you need carry with you is a set of paddles. Getting the canoes in and out of the water is a bit tricky due to rocky terrain. The paddle, however, is sublimely beautiful. One of the most pleasurable things to do here is sit on a sandy bank and Zen out gazing at watery reflections of rocky embankments. 
Be trail ready for Dillie Creek, Charnley Station, Kimberley
Here is everything you need to know before visiting this trail.
Time / Duration
A two minute walk to the gorge. Half to full day if you canoe
What To Pack
Group A (Urban trails or short trails near facilities) required.
What To Pack
Group A (Urban trails or short trails near facilities)
Full large water bottle per person.
Sun hat or bike helmet (compulsory in WA).
Sunglasses, sunscreen (30+) and insect repellant.
Clothes to suit the activity and potential weather conditions (See suggestions below).
Binoculars and camera (optional).
Additional Useful Items
Bathers and towel
Trail Start
Car park at Charnley Station is 300km east of Derby, Derby is 2400km north of Perth
Suitable for most ages and fitness levels. Some bushwalking experience recommended. Tracks may have short steep hill sections a rough surface and many steps. Walks up to 20km.
Difficulty Notes
Rock hopping
Facilities
Canoes available. Book at the Charnley Station office
Best time of year
May to October. The dry season in the Kimberley
Fees
Entry and camping fees apply
Trail Access
Air, Drive or Bus to Broome 2200km north of Perth, 4WD to 290km east of Derby


Complete Dillie Creek, Charnley Station, Kimberley to earn badges and points!
Earn points and badges and become a "TrailsWA Expert" by completing trails and leaving reviews.
Earn 2 points towards
your TrailsWA level

Be the first to review Dillie Creek, Charnley Station, Kimberley
We love to hear from people who've been on our Western Australian trails, so it would be most appreciated it if you wanted to leave a review.
Add your review of Dillie Creek, Charnley Station, Kimberley
Supported by great organisations
Trails are free and bring so many benefits to our community by providing opportunities to have fun, get fit, socialise, explore and challenge yourself. But they also have to be managed and maintained which only is made possible through terrific sponsors, donations and/or volunteering.

Canoeing in Dillie Creek
Book canoes at the Charnley River Station office the day before.
Trail head to Dillie Creek
The start of the trail
Line of quartz
Rock formations at Dillie Creek
Dillie Creek
Diilie Creek flows through the gorge
Fresh water swimming
Great face to swim
View 5 Photos of Dillie Creek, Charnley Station, Kimberley
Upload your photo of Dillie Creek, Charnley Station, Kimberley
Report a Problem
You are reporting a problem for Dillie Creek, Charnley Station, Kimberley. Please be as detailed as possible to help us appropriately identify and address the issue.