Trails WA supports the seven principles recommended by Leave No Trace Australia for minimising your impacts when using the trails.
Learn more
About Bundegi Sanctuary Zone Kayak Trail
MOORINGS: There are two KAYAK ONLY moorings within the Bundegi Sanctuary Sanctuary Zone.  They are easily identifed by their blue colouring and white labels.
Kayak 1 – Nook and Crannies: 21° 51.751'S, 114° 09.613'E
Kayak 2 – The Cove: 21° 51.536'S, 114° 09.739'E
ROUTE: A 3.5km (about one hour) paddle south south-west along the inside of the Bundegi reef will take you to the two kayak moorings within the Bundegi Sanctuary Zone. Snorkel the sites and return north back along the coast to the boat ramp. These sites may be attempted individually or in any combination. The line on the map is for illustration purposes only. The actual route and duration are dependent on the number of sites visited, based on your own abilities. Once at the site, assess the currents prior to entry − it is recommended to snorkel into the current at the beginning of your snorkel to enable an easy return to the mooring.
SITE INFORMATION: Snorkelling at high tide only is recommended. Site depth ranges from 1.5 to 3 metres. In spring and summer 2011−12, the Bundegi reef experienced a significant coral bleaching event. It was estimated as little as one to six per cent of corals remained alive at the end of eight months of sustained high water temperatures, which rose up to 5°C above normal. Two years later, in 2013, there had been some limited recovery of corals in patches, while other sites remain as coral rubble. Although dead, the remaining coral structure still provides habitat for a vast array of marine life including turtles, groper, large schools of drummer, reef sharks, the occasional manta ray, and many juvenile species from tiny blue green Chromis to small butterfly and angel fish. The Bundegi reef provides an excellent example of the devastating effects high water temperatures can have on coral reefs, and the patchy and slow nature of recovery.
Expand your trip and enjoy great businesses nearby
Exmouth Adventure Co
Exmouth Adventure Co specialises in small group eco tours based out of Exmouth, Western Australia.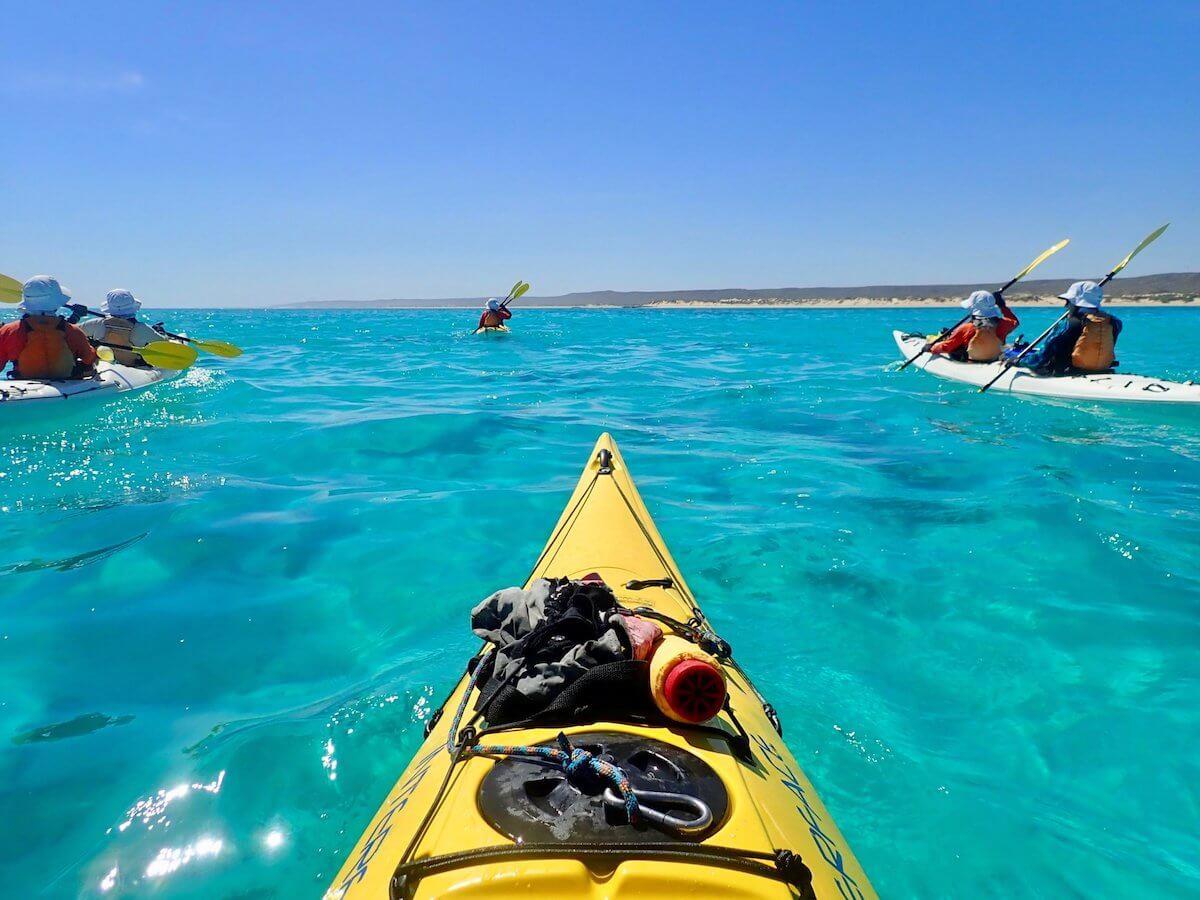 Be trail ready for Bundegi Sanctuary Zone Kayak Trail
Here is everything you need to know before visiting this trail.
Time / Duration
Allow four hours return time, including snorkelling.
Length
7.5km however, distance varies, depending on how many sites are visited
What To Pack
Group F (Paddling trails) required.
What To Pack
Group F (Paddling trails)
Plenty of water and food for duration of trip.
Sun hat, sunglasses, sunscreen (30+)
Clothes to suit the activity and potential weather conditions
Lifejacket or flotation device
Leg or paddle leash if paddling in the ocean
Additional Useful Items

Ensure your craft has a suitable attachment to securely attach to the mooring, as well as the ability to safely secure your gear (e.g. paddle) while snorkelling.

For further information contact the Milyering Visitor Centre on (08) 9949 2808
Trail Start
From the beach access track to the right of the Bundegi boat ramp.
Trail End
Return back to Bundegi Boat Ramp / Beach
Difficulty Notes
It is best to avoid paddling to the north of Bundegi Beach on an outgoing tide as you may find that when trying to return you may be unable to paddle against the strong currents on the cape.
Hazards & Warnings
Beware of Currents and Winds at all sites. Check local weather conditions prior to leaving the shore.
All sites require paddling and snorkelling experience. It is your responsibility to ensure your experience is suitable for the site. If in doubt don't go out.
Stay alert and maintain a 360-degree watch when you are paddling in areas shared by power boats.
Irukandji jellyfish can be present at Ningaloo - wearing stinger suits or rash shirts can reduce risk of being stung.
Maintain safe distance from wildlife - Look, Dont Touch!  Follow whale watching rules and guidelines (see links)
Safety
Paddle with a friend to enhance the enjoyment and safety of your adventure.
Please ensure your craft is seaworthy and has the required safety equipment aboard as these sites are more than 400 metres from shore. The required safety equipment includes life jacket, flares/PLB and a bailer (if not self draining).
The moorings hold a maximum of ten kayaks at any one time. 
Please note that only Telstra and Optus phone networks provide connection in this area.
Facilities
Bundegi Boat Ramp is located approximately 10km north of Exmouth town.  Just north of the boat ramp on the beach front you'll find 'The Beach Shack' cafe and toilets/showers.  Bins are also available in this area.  Dogs are allowed on the beach at Bundegi but not out on the kayak trail.
This trail is suitable for those with accessibility needs providing they have assistance. Milyering Discovery Centre located in Cape Range National Park have two foldable beach wheelchairs that can be used to assist access to the beach - To book them, please contact Parks and Wildlife Office in Exmouth  Ph (08) 9947 8000 or Milyering Discovery Centre Ph 08 99492808.  If a ranger is available, it may be possible for the ranger to transport the wheelchair for you. Please note, there are no universally accessible facilities at this site.
Car Park
Public Toilet
Cafe
Sheltered Area
Child Activities
Water Access Points
Best time of year
April to November
Trail Access
Self drive to Bundegi Beach (10km North of Exmouth)
Prohibited Items
ALL MOORINGS ARE LOCATED IN SANCTUARY ZONES – NO FISHING PERMITTED


Complete Bundegi Sanctuary Zone Kayak Trail to earn badges and points!
Earn points and badges and become a "TrailsWA Expert" by completing trails and leaving reviews.
Earn 2 points towards
your TrailsWA level

Be the first to review Bundegi Sanctuary Zone Kayak Trail
We love to hear from people who've been on our Western Australian trails, so it would be most appreciated it if you wanted to leave a review.
Add your review of Bundegi Sanctuary Zone Kayak Trail
Supported by great organisations
Trails are free and bring so many benefits to our community by providing opportunities to have fun, get fit, socialise, explore and challenge yourself. But they also have to be managed and maintained which only is made possible through terrific sponsors, donations and/or volunteering.

Bundegi Beach Shack just north of the boat ramp
Launch to the right of the boat ramp
The trail heads about 3.5km SSW of the boat ramp
View 9 Photos of Bundegi Sanctuary Zone Kayak Trail
Upload your photo of Bundegi Sanctuary Zone Kayak Trail
Report a Problem
You are reporting a problem for Bundegi Sanctuary Zone Kayak Trail. Please be as detailed as possible to help us appropriately identify and address the issue.