Blowholes Trail, Torndirrup NP
Details for trail on a map
Frenchman Bay Road, Torndirrup National Park, 400km (5 hours) south of Perth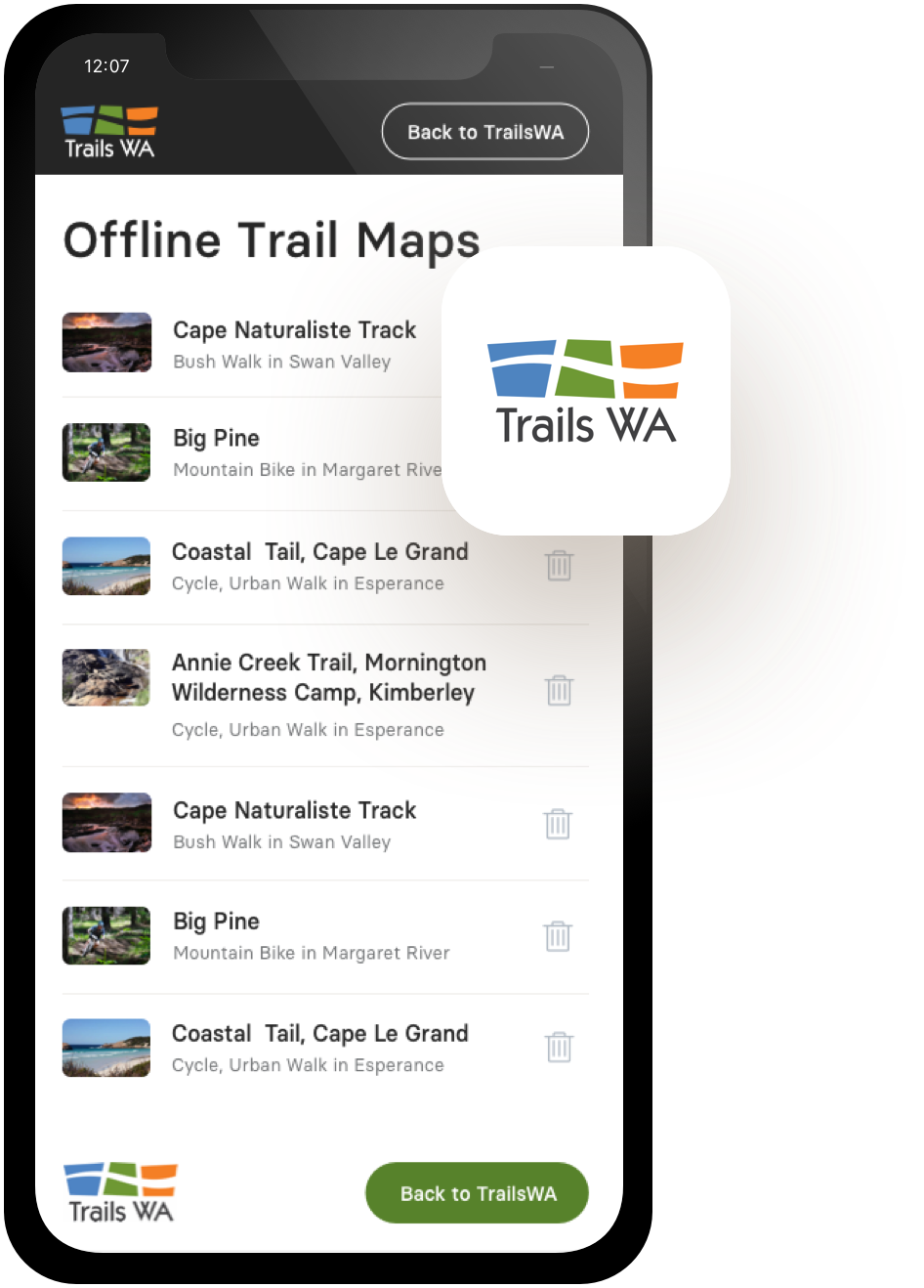 Offline Maps
TrailsWA Now supports Offline Maps. Follow the instructions below to save trail maps to your phone.
Visit trailswa.com.au on your mobile Our Offline Maps will require you to be connected to trailswa.com.au using the device you intend to take on your trip.

Add to Home Screen Save the trailswa.com.au webpage to your home screen.

Find your trail, and Save Offline Via the bookmark saved to your devices home screen, explore our trails and find the one you want - select "Save this map to use offline". You will need to be connected/online at this point.
Trails WA supports the seven principles recommended by Leave No Trace Australia for minimising your impacts when using the trails.
Learn more
About Blowholes Trail, Torndirrup NP
The Blowholes, the result of water being forced up into a crackline in the granite, produce spray and loud eerie sounds when a big swell is running. Depending on the swell, size and direction of approach to the sea cliffs The Blowholes may or may not be blowing. When they do, the noise is quite impressive and this attraction should not be missed, especially on a day when the ocean swell is high. Just rug-up warmly and wear sturdy non-slip shoes.
This walk is the most popular in Torndirrup National Park, but be sure to keep away from the ocean at all times, as several lives have been lost in this vicinity. The 1.6km return walk begins at the western end of the carpark and is well signposted. Follow the bitumen path for about 400 metres to the top of some steps. There are fine views of Peak Head to the south-east and Eclipse Island to the south-west. After the steps the path swings to the right then traverses an open granite area. Signs indicate the location of the Blowholes. At the Blowholes, do not proceed any further to the ocean and do not stand over the Blowholes.
No signage on the road by the way. First turning on the right after the natural bridge and Gap viewing platform. If you see the sign for Jimmy Newells you have already passed it going south.
Albany Visitor Centre
(08) 6820 3700
221 York Street, Albany WA 6330
Other Links
Australia's South West

Comprehensive information on the South West region including destinations, things to see and do, accommodation and tours.
Be trail ready for Blowholes Trail, Torndirrup NP
Here is everything you need to know before visiting this trail.
What To Pack
Group A (Urban trails or short trails near facilities) required.
What To Pack
Group A (Urban trails or short trails near facilities)
Full large water bottle per person.
Sun hat or bike helmet (compulsory in WA).
Sunglasses, sunscreen (30+) and insect repellant.
Clothes to suit the activity and potential weather conditions (See suggestions below).
Binoculars and camera (optional).
Additional Useful Items
Preferably wear closed in shoes with good grip.
Trail Start
Frenchman Bay Road, Torndirrup National Park, 400km (5 hours) south of Perth
No bushwalking experience required. The track is a hardened or compacted surface and may have a gentle hill section or sections and occasional steps. Walks no greater than 10km. Suitable for families with young children.
Difficulty Notes
There are 78 steps and the return walk is all uphill so some level of fitness is needed.
Hazards & Warnings
The path to the blowholes contains many steps. Take care when wet and windy and do not venture downslope from the path.
Facilities
Car Park
Coach Parking
Lookouts
View Platform
Best time of year
January to December


Complete Blowholes Trail, Torndirrup NP to earn badges and points!
Earn points and badges and become a "TrailsWA Expert" by completing trails and leaving reviews.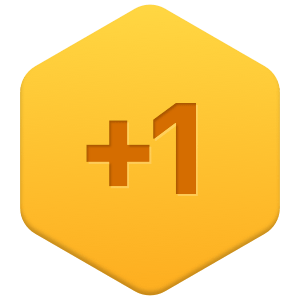 Earn 1 point towards
your TrailsWA level
Earn the Popular Trail badge when you complete this trail.

1 trail goers have rated Blowholes Trail, Torndirrup NP as 4 out of 5!
We love to hear from people who've been on our Western Australian trails, so it would be most appreciated it if you wanted to leave a review.
Add your review of Blowholes Trail, Torndirrup NP
Jess Kneale rated Blowholes Trail, Torndirrup NP a 4 out of 5
Good trail, blow holes are not always active.
Supported by great organisations
Trails are free and bring so many benefits to our community by providing opportunities to have fun, get fit, socialise, explore and challenge yourself. But they also have to be managed and maintained which only is made possible through terrific sponsors, donations and/or volunteering.

The Blowholes
To see the Blowholes in action, go on a windy day. The sound of the blowholes is impressive.
The 78 steps aren't steep!
It's all up-hill on the way back - but don't let that put you off - just take your time!
Trail to bowholes
The trail is a wide path leading to stairs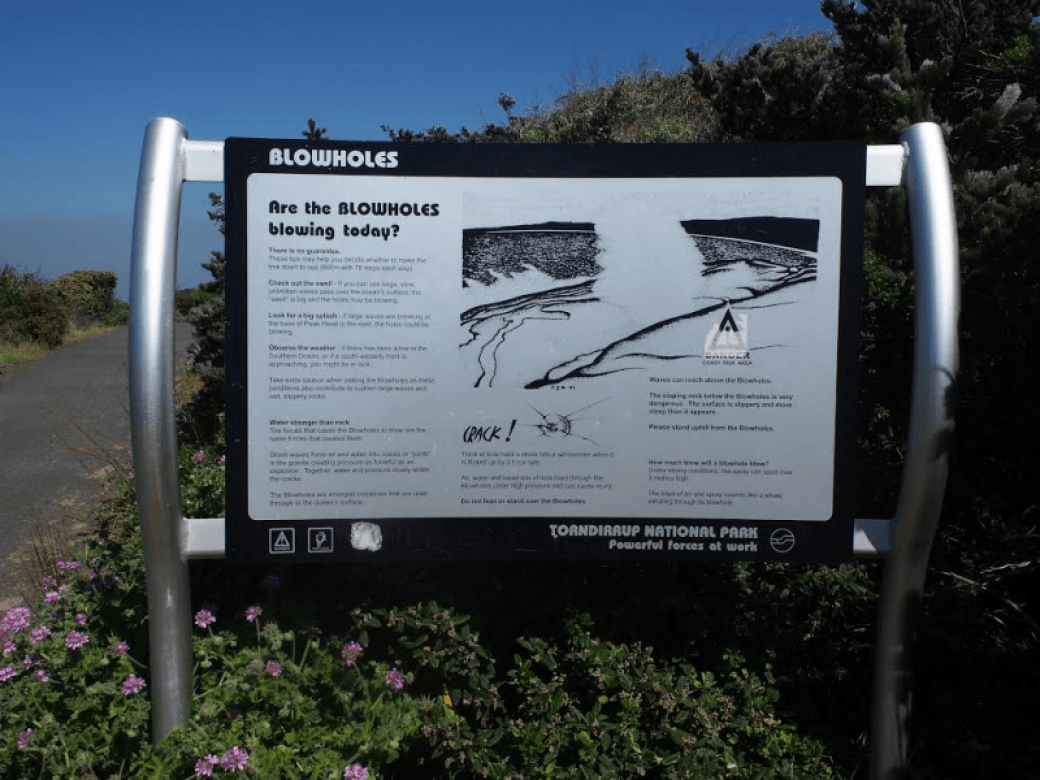 Start of trail
The trail starts from the carpark.
View 6 Photos of Blowholes Trail, Torndirrup NP
Upload your photo of Blowholes Trail, Torndirrup NP
Report a Problem
You are reporting a problem for Blowholes Trail, Torndirrup NP. Please be as detailed as possible to help us appropriately identify and address the issue.