Bibbulmun Wellington Spur Trail, Wellington NP
Details for trail on a map
On foot via the Bibbulmun Track (see trail notes) or Wellington Dam, which is 200km (2.5) hours south of Perth
Wellington Dam, 29km (30 minutes) from Collie.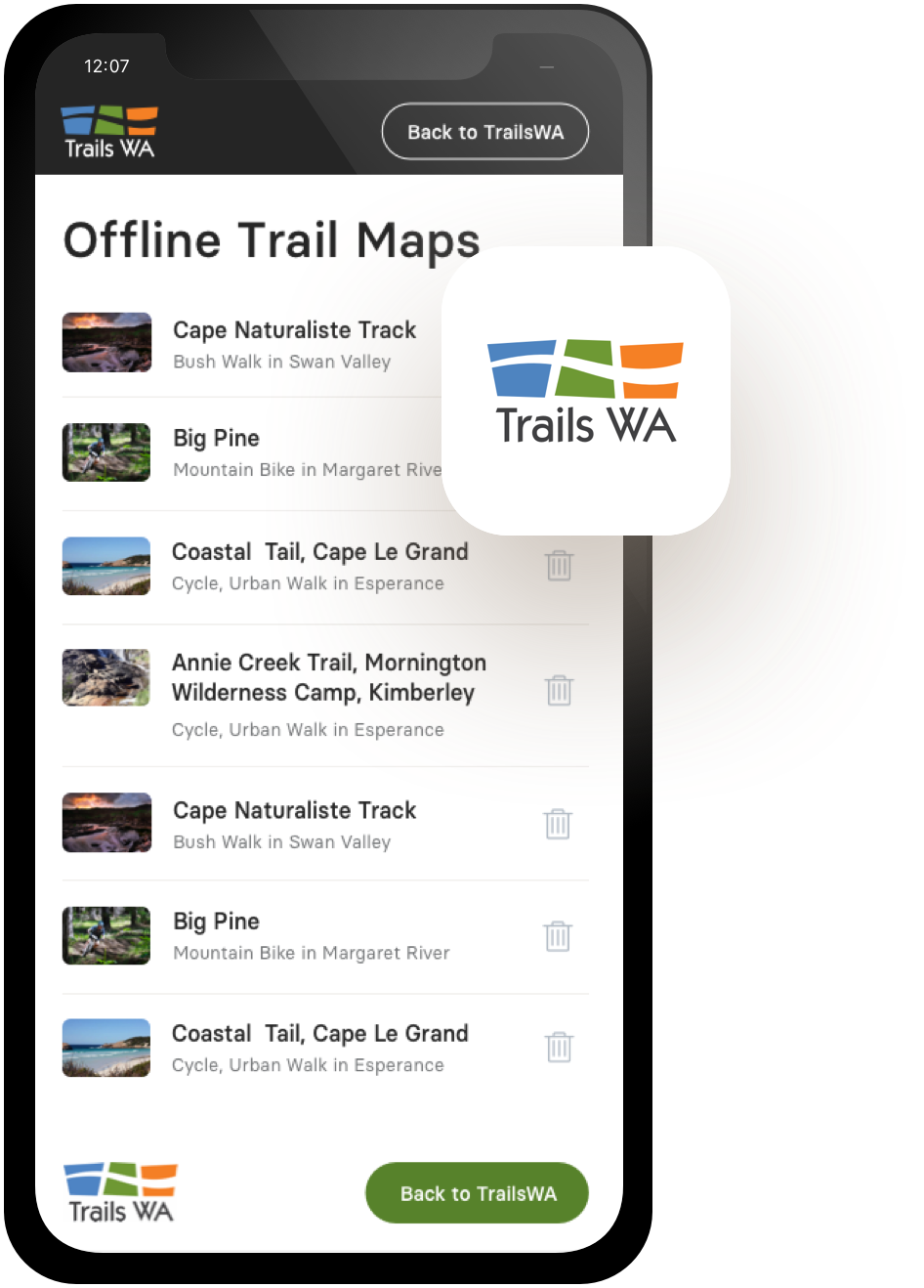 Offline Maps
TrailsWA Now supports Offline Maps. Follow the instructions below to save trail maps to your phone.
Visit trailswa.com.au on your mobile Our Offline Maps will require you to be connected to trailswa.com.au using the device you intend to take on your trip.

Add to Home Screen Save the trailswa.com.au webpage to your home screen.

Find your trail, and Save Offline Via the bookmark saved to your devices home screen, explore our trails and find the one you want - select "Save this map to use offline". You will need to be connected/online at this point.
Trails WA supports the seven principles recommended by Leave No Trace Australia for minimising your impacts when using the trails.
Learn more
About Bibbulmun Wellington Spur Trail, Wellington NP
The Wellington Spur Trail links the Bibbulmun Track just south of Collie, to the Wellington Dam recreation area in the Wellington National Park. It is a pretty walk through the Wellington National Park which features WA's unique eucalypt forests of jarrah, marri and yarri (blackbutt). 
The two group campsites (Lyall's Mill and Arcadia) have undercover areas, tables, toilets and tent sites but no sleeping shelters. The maximum group size is 30.  At all other campsites on the Bibbulmun Track the maximum size of any group staying overnight is 17, including leaders.
The trail is marked with the same trail marker as the Bibbulmun Track (a stylised Waugal) but with a green background instead of yellow. 
Walk options:
1. Collie to Wellington Dam.  40km
Day 1. Walk the Bibbulmun Track to Yabberup Campsite which is 19.6km south of Collie.  (To shorten the walk, get dropped of at Mungalup Road Bridge 13.7km or Mungalup Road South 10.4km.  These vehicle drop-off points are shown on the map.)
Lyall's Mill group campsite is approximately 350 metres away from Yabberup campsite (300m from the spur/Track junction).
Day 2.  The 15km walk from Lyalls Mill campsite to Arcadia Campsite takes you through jarrah forest with occasional valley views. 
Day 3. A short 3.5km hike to Wellington Dam leaves time to explore the Dam recreation area.  Camping is also available in the area.
2. Glen Mervyn Dam to Wellington Dam. 25km
Same itinerary as above but commence your walk at Glen Mervn Dam.  Follow the Bibbulmun Track for 6kms to the start of the spur trail.  This provides a shorter first day's walk depending on the age of the group and/or the travel time to get to the drop-off/pick-up point.
3. Wellington Dam to Arcadia Campsite. 7km return.
Starting the walk at the Dam into Arcadia campsite and back is a good day walk or overnight option for younger age groups.
Starting point:  Drive (or walk) from the Kiosk down Wellington Dam Road to the base of  the dam wall.  Just a little further on from the river crossing there's a small parking area where you'll find the Trailhead sign.  Walk up the bitumen road and the trail starts on the right of the dam wall. 
All groups need to lodge a Notice of Intent (NOI) form with the Bibbulmun Track Foundation.  For more information and a host of expedition planning resources visit the Bibbulmun Track Foundation website.
Be trail ready for Bibbulmun Wellington Spur Trail, Wellington NP
Here is everything you need to know before visiting this trail.
Time / Duration
Time depends on length and section of trail chosen
What To Pack
Group B (Bushwalks and/or longer trails) required.
What To Pack
Group B (Bushwalks and/or longer trails)
Minimum 2 litres of water per person per day
Sturdy shoes
Sun hat or bike helmet (compulsory in WA)
Sunglasses, sunscreen (30+) and insect repellant
Binoculars and camera (optional)
Map or guide book where suggested
Snacks and/or lunch depending on length of trail
Clothes to suit the activity and potential weather conditions including a water/windproof jacket
First Aid kit
Additional Useful Items
Always use a map on the Bibbulmun Track. The guidebooks are also excellent if your map reading skills aren't great. You'll need Map 3 - Collie. Available online from the Foundation.
Group bookings notification link:
https://parks.dpaw.wa.gov.au/know/group-notifications
Trail Start
On foot via the Bibbulmun Track (see trail notes) or Wellington Dam, which is 200km (2.5) hours south of Perth
Trail End
Wellington Dam, 29km (30 minutes) from Collie.
Bushwalking experience recommended. Tracks may be long, rough and very steep. Directional signage may be limited.
Hazards & Warnings
Always check Track conditions on the Bibbulmun Track Foundation website before departure.
Facilities
Parking is at Collie, Glen Mervyn Dam or Wellington Dam.
Camping is at designated campsites on the Trail. Water tanks have limited supply. Hikers should take full water bottles with them for first day.
Camping
Car Park
Coach Parking
Public Toilet
Sheltered Area
Water Access Points
Best time of year
April to November
Prohibited Items
No pets, bikes, horses or vehicles


Complete Bibbulmun Wellington Spur Trail, Wellington NP to earn badges and points!
Earn points and badges and become a "TrailsWA Expert" by completing trails and leaving reviews.
Earn 2 points towards
your TrailsWA level
Earn the Overnight Hike badge when you complete this trail
This trail is part of the Bibbulmun Track badge

Be the first to review Bibbulmun Wellington Spur Trail, Wellington NP
We love to hear from people who've been on our Western Australian trails, so it would be most appreciated it if you wanted to leave a review.
Add your review of Bibbulmun Wellington Spur Trail, Wellington NP
Supported by great organisations
Trails are free and bring so many benefits to our community by providing opportunities to have fun, get fit, socialise, explore and challenge yourself. But they also have to be managed and maintained which only is made possible through terrific sponsors, donations and/or volunteering.

The trail starts or finishes at the Wellington Dam.
Overlooking Wellington Dam.
Walk through a mix of jarrah forest and open farmland.
One of the campsites
Campsite were purpose built for groups with a cooking shelter and tent sites for up to 30.
Farmland and valley views
Each campsite has two dunny's
View 6 Photos of Bibbulmun Wellington Spur Trail, Wellington NP
Upload your photo of Bibbulmun Wellington Spur Trail, Wellington NP
Report a Problem
You are reporting a problem for Bibbulmun Wellington Spur Trail, Wellington NP. Please be as detailed as possible to help us appropriately identify and address the issue.