Giant Tingle Tree to Coalmine Beach, Walpole Wilderness
Details for trail on a map
Car park on Tingle Drive, off Hilltop Rd (2.5 km east of Walpole), 422km (5 hours) south of Perth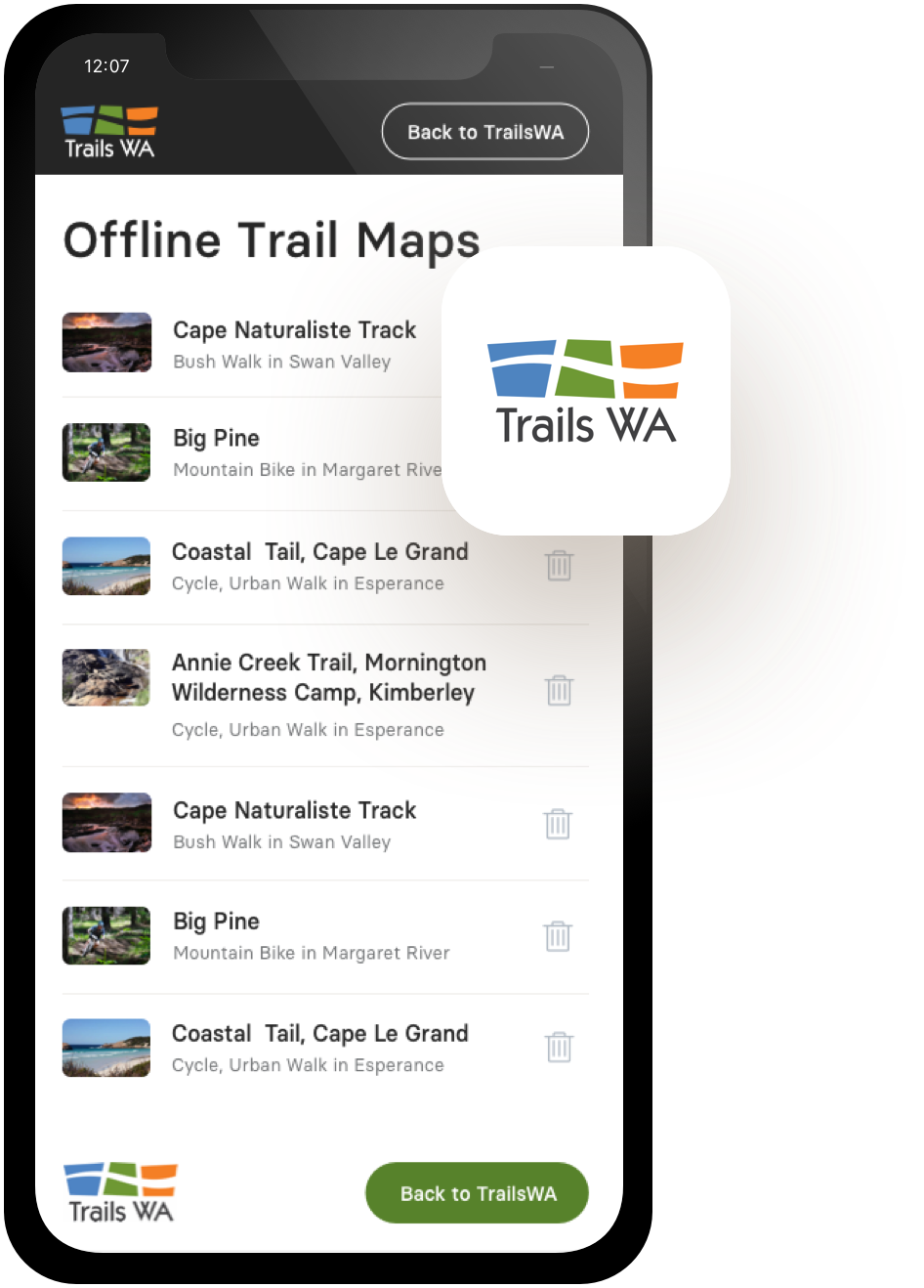 Offline Maps
TrailsWA Now supports Offline Maps. Follow the instructions below to save trail maps to your phone.
Visit trailswa.com.au on your mobile Our Offline Maps will require you to be connected to trailswa.com.au using the device you intend to take on your trip.

Add to Home Screen Save the trailswa.com.au webpage to your home screen.

Find your trail, and Save Offline Via the bookmark saved to your devices home screen, explore our trails and find the one you want - select "Save this map to use offline". You will need to be connected/online at this point.
There are a number of parking bays as well as a toilet and picnic tables. Take the time to read the information boards before starting your walk. Water is also available here but please treat it before drinking.
This red tingle tree survived severe fires in both 1937 and 1951. The fires destroyed the trees' protective bark, exposing the heartwood. The tree lives today because of the unique adaptations to fire damage that are typical of many eucalypt trees. Take a look around - do you see any trees with dead crowns? The 1937 fire was so hot that it killed the tops of many trees. The fire started near Northcliffe and the crown fire was so intense that it was racing up to 10km ahead of the ground fire.
Tingle trees are now found only in the Walpole-Nornalup area, which has the wettest and least seasonal climate in the south-west. The red tingle (Eucalyptus jacksonii) is by far the broadest of any tree in WA, with a circumference of up to 20 metres. The yellow tingle (Eucalyptus guilfoylei) and Rate's tingle (Eucalyptus brevistylis) are smaller. Karri (Eucalyptus diversicolor) grows only in high rainfall areas of south-western Australia. It grows up to 90 metres high, flowering from May to December. Karri oak (Allocasuarina decussata) grows to 15 metres. This tree has distinctive corky bark with pine-like needles and small spiky seed pods, a favoured food for native parrot species. Fossils of closely related species have been found dating back to the time of Gondwana. Tassel bush (Leucopogon verticillatus) is an erect, bamboo-like shrub, 0.8-4 metres high with large, 10-2.5cm leaves in whorls. It produces pink tassel-like flowers from August to November. Native wisteria (Hardenbergia comptoniana) is a twining shrub or climber. It has leaves divided into three leaflets, long pointed seed pods and purple or white flowers from July to October. The white-naped honeyeater, 13-15cm long, is olive green above and white below. It has a black head, nape and throat, a red patch over the eye and a white crescent-shaped patch on the nape. Its diet is principally nectar from a variety of flowers, supplemented by insects and various other invertebrates. Red-winged fairy wrens are sedentary and endemic to the south-western corner of Western Australia. They are primarily insectiferous, and forage and shelter in scrubby vegetation in temperate wetter forests dominated by karri.
The Hilltop Lookout offers excellent views over the Nornalup Inlet and the Southern Ocean.
BEWARE OF ONCOMING TRAFFIC. CROSS WITH CAUTION.
Take the time to sit in the bird hide on the shores of the Nornalup Inlet Marine Park to view the many water birds that inhabit the area.
October 1930 saw a small community of tents, tin and bushpole shanties mark the beginnings of the Nornalup Land Settlement, later to become known as Walpole. The settlers who came to live in this beautiful and isolated corner of the State had to be resourceful, self-sufficient and adaptable. Coalmine Beach is popular for swimming, canoeing or fishing along the inlet edges, with shady peppermint trees and a beach. There is wheelchair access to a platform for relaxing at the edge of the inlet. It is adjacent to a privately operated caravan park.
Trails WA supports the seven principles recommended by Leave No Trace Australia for minimising your impacts when using the trails.
Learn more
About Giant Tingle Tree to Coalmine Beach, Walpole Wilderness
This is one of many day walks possible on the Bibbulmun Track which stretches 1000km from Kalamunda on the outskirts of Perth, to the historic town of Albany on the south coast.
This walk is in the Walpole Wilderness Area, which boasts some of WA's most spectacular landscapes, coasts, habitats and vegetation. Consisting of a number of national parks and reserves, the Walpole Wilderness Area safeguards areas of environmental, biodiversity and indigenous significance.
The day walk starts from the Giant Tingle Tree which, with a girth of 24m, is the largest-girthed living eucalypt known in the world. It then heads down to Hilltop Lookout, with its panoramic views of Nornalup Inlet and the Southern Ocean, then descends to Coalmine Beach on the shores of the Walpole and Nornalup Inlets Marine Park. The Track passes through splendid karri and red tingle forest which comes alive in springtime with wildflowers.
The Bibbulmun Track offers a wide range of experiences. Enjoy a gentle stroll in the peace and beauty of the natural environment or an epic eight-week adventure camping out at the 49 campsites and enjoying the hospitality of nine communities along the way. Those that walk every step of the way can be registered as end-to-enders.
This guide is just a taste of the 1000km Bibbulmun Track. For other day walks or multi-day trips visit the Bibbulmun Track website.
Walpole-Nornalup Visitor Centre
(08) 9840 1111
Pioneer Park, South Coast Highway, Walpole WA 6398
Be trail ready for Giant Tingle Tree to Coalmine Beach, Walpole Wilderness
Here is everything you need to know before visiting this trail.
Time / Duration
3 - 4 hours
What To Pack
Group B (Bushwalks and/or longer trails) required.
What To Pack
Group B (Bushwalks and/or longer trails)
Minimum 2 litres of water per person per day
Sturdy shoes
Sun hat or bike helmet (compulsory in WA)
Sunglasses, sunscreen (30+) and insect repellant
Binoculars and camera (optional)
Map or guide book where suggested
Snacks and/or lunch depending on length of trail
Clothes to suit the activity and potential weather conditions including a water/windproof jacket
First Aid kit
Trail Start
Car park on Tingle Drive, off Hilltop Rd (2.5 km east of Walpole), 422km (5 hours) south of Perth
Suitable for most ages and fitness levels. Some bushwalking experience recommended. Tracks may have short steep hill sections a rough surface and many steps. Walks up to 20km.
Facilities
There are toilets at the Tingle Tree carpark and good facilities at Coalmine Beach including a small shop at the Coalmine Beach Holiday Park.
Camping
Car Park
Lookouts
Public Toilet
Shop
Best time of year
April to December
Trail Access
Road or bus to Walpole
Prohibited Items
No pets or bikes


Complete Giant Tingle Tree to Coalmine Beach, Walpole Wilderness to earn badges and points!
Earn points and badges and become a "TrailsWA Expert" by completing trails and leaving reviews.
Earn 2 points towards
your TrailsWA level
Earn the Bibbulmun Track badge when you complete this trail.

Be the first to review Giant Tingle Tree to Coalmine Beach, Walpole Wilderness
We love to hear from people who've been on our Western Australian trails, so it would be most appreciated it if you wanted to leave a review.
Add your review of Giant Tingle Tree to Coalmine Beach, Walpole Wilderness
Supported by great organisations
Trails are free and bring so many benefits to our community by providing opportunities to have fun, get fit, socialise, explore and challenge yourself. But they also have to be managed and maintained which only is made possible through terrific sponsors, donations and/or volunteering.

Amazing view
You can enjoy views like this on the Track
Mt Clare Campsite
You can have your lunch break in this shelter
View 3 Photos of Giant Tingle Tree to Coalmine Beach, Walpole Wilderness
Upload your photo of Giant Tingle Tree to Coalmine Beach, Walpole Wilderness
Report a Problem
You are reporting a problem for Giant Tingle Tree to Coalmine Beach, Walpole Wilderness. Please be as detailed as possible to help us appropriately identify and address the issue.