Albany Wind Farm to Mutton Bird Island
Details for trail on a map
Albany wind farm which is 12km from Albany which is 428 km (4 hours 43 min) SE of Perth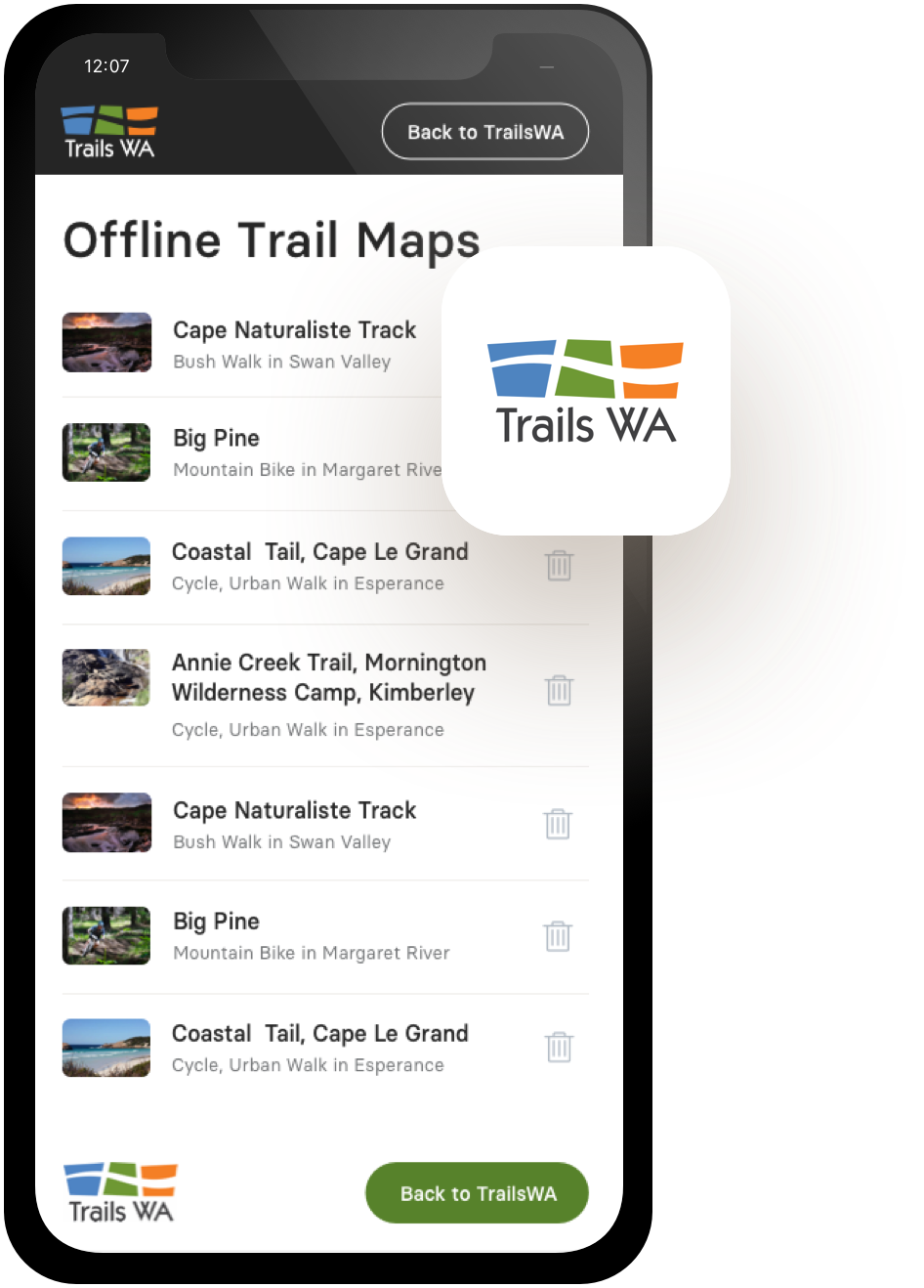 Offline Maps
TrailsWA Now supports Offline Maps. Follow the instructions below to save trail maps to your phone.
Visit trailswa.com.au on your mobile Our Offline Maps will require you to be connected to trailswa.com.au using the device you intend to take on your trip.

Add to Home Screen Save the trailswa.com.au webpage to your home screen.

Find your trail, and Save Offline Via the bookmark saved to your devices home screen, explore our trails and find the one you want - select "Save this map to use offline". You will need to be connected/online at this point.
Provides information about the wind turbines, the electricity produced and why this location was chosen.
The information board explain the 6 seasons of the year.
There are two viewing points, one to the east and the other to the west. From the upper viewing point, on a clear day, you can see the Porongorup Range to the north and even perhaps the Stirling Range further north and slightly east well beyond the town of Albany. Mt Manypeaks is also visible to the east.
This lookout has a distance plaque showing the distances and directions of places around Australia.
The Albany wind farm has 12 wind turbine generators situated on site, which were commissioned in 2000. The turbines, each with three 35m long blades, are fitted to 65m towers. The nose cone to which the blades are attached weighs around 14 tonnes. These turbines are the largest that have been installed in the southern hemisphere. Each turbine has a rating of 1.8MW. The six turbines beyond the first 12 are part of the Grasmere wind farm and supply additional power to the south-west power grid. They were commissioned early in 2012.
This lookout is ideal for whale watching from July through to October. You may spot the distinctive cloud that is formed as a whale exhales from the blowhole on top of its head. Southern right whales calve and suckle their young in sheltered bays along the south coast. About the size of a bus, these large stocky creatures weigh up to 80 tonnes and may be 18 metres long. Despite their size, they are agile and active, and their acrobatic antics can keep whale watchers entranced for hours. However, their commonest behaviour is lying around like logs at the surface. The large head comprises up to a quarter of the total body length, and the lower jawline is distinctively bowed. There is no dorsal fin, but they have broad, triangular and flat flippers. The twin blowholes produce a high, V-shaped blow. These mammals have horny growths called callosities on various parts of the head. The patterns formed by the callosities are different for each individual. In July and August, humpback whales pass quickly on the way to breeding grounds in the north. In October they return at a more leisurely pace and may be seen breaching and playing quite close to the shore. Humpbacks are the fifth largest of the great whales. Named because of the distinct 'hump' that shows as the whale arches its back when it dives, humpbacks also have knobby heads, very long flippers with knobs on the front edge, and a humped dorsal fin. They are blackish, with white undersides. The maximum length is 18m and a mature adult may weigh up to 45 tonnes.
If you are walking option 1 (8km return walk) then this is your turn-around point. If you wish to get up close to the turbine there is a spur trail (look for the sign marking wind turbine number 10). Note: the sign mentions a car park but it is not accessible to the public.
Turn right to go to the campsite.
Named after Mutton Bird Island, this is one of two newly built campsites and shelters. It is designed to sleep 12 to 15 people. From here, it is approximately 4km to the Mutton Bird Island viewing platform and car park, where you can be picked up (or return via a shuttle car that you left there previously). Alternatively, you can walk the 9km back to Sandpatch.
This is the finish point of this walk. The viewing platform provides fabulous views over Torbay. Steps down to the beach lead to a sheltered swimming area.

Toilets and bins are located near here.
Trails WA supports the seven principles recommended by Leave No Trace Australia for minimising your impacts when using the trails.
Learn more
About Albany Wind Farm to Mutton Bird Island
This is one of many day walks possible on the Bibbulmun Track which stretches 1000km from Kalamunda on the outskirts of Perth, to the historic town of Albany on the south coast.
This route offers various options to experience breathtaking coastal views, spectacular carpets of wildflower heathlands and the majestic site of the Albany wind farm.
This hike can be done as a one way hike at 13.5 kilometres. You will require a vehicle at either end to complete this walk, or arrange for a pick up from Mutton Bird car park.There is no public transport to either Sandpatch or Mutton Bird Island.
Or you can follow the route on the map and hike out and back. Sandpatch campsite is 3km from the wind farm and provides a great place for morning tea or lunch before returning to your car.
The Bibbulmun Track offers a wide range of experiences, from a gentle stroll to enjoy the peace and beauty of the natural environment, to an epic eight week adventure camping out at the 49 campsites and enjoying the hospitality of nine communities along the way. Those that walk every step of the way can be registered as end-to-enders.
Other Links
Australia's South West

Comprehensive information on the South West region including destinations, things to see and do, accommodation and tours.
Be trail ready for Albany Wind Farm to Mutton Bird Island
Here is everything you need to know before visiting this trail.
Time / Duration
5-6 hours
What To Pack
Group B (Bushwalks and/or longer trails) required.
What To Pack
Group B (Bushwalks and/or longer trails)
Minimum 2 litres of water per person per day
Sturdy shoes
Sun hat or bike helmet (compulsory in WA)
Sunglasses, sunscreen (30+) and insect repellant
Binoculars and camera (optional)
Map or guide book where suggested
Snacks and/or lunch depending on length of trail
Clothes to suit the activity and potential weather conditions including a water/windproof jacket
First Aid kit
Trail Start
Albany wind farm which is 12km from Albany which is 428 km (4 hours 43 min) SE of Perth
Trail End
Mutton Bird car park
No bushwalking experience required. The track is a hardened or compacted surface and may have a gentle hill section or sections and occasional steps. Walks no greater than 10km. Suitable for families with young children.
Facilities
There's a toilet at the wind farm. The shelter and long drop toilet are at Sandpatch campsite . Viewing platforms at windfarm and to look out to Mutton Bird Island.
Camping
Lookouts
Public Toilet
Sheltered Area
View Platform
Best time of year
April to December
Trail Access
Air, road and bus to Albany.
Prohibited Items
No pets or bikes


Complete Albany Wind Farm to Mutton Bird Island to earn badges and points!
Earn points and badges and become a "TrailsWA Expert" by completing trails and leaving reviews.
Earn 2 points towards
your TrailsWA level
This trail is part of the Bibbulmun Track badge

Be the first to review Albany Wind Farm to Mutton Bird Island
We love to hear from people who've been on our Western Australian trails, so it would be most appreciated it if you wanted to leave a review.
Add your review of Albany Wind Farm to Mutton Bird Island
Supported by great organisations
Trails are free and bring so many benefits to our community by providing opportunities to have fun, get fit, socialise, explore and challenge yourself. But they also have to be managed and maintained which only is made possible through terrific sponsors, donations and/or volunteering.

Albany Windfarm
The wind farm is a popular tourist attraction.
Mutton bird campsite
The Bibbulmun Track campsites are a great place for a break.
Coastal banjine
The best time for wildflowers is Spring - September and October.
Mutton Bird lookout
Viewing platform
View 5 Photos of Albany Wind Farm to Mutton Bird Island
Upload your photo of Albany Wind Farm to Mutton Bird Island
Report a Problem
You are reporting a problem for Albany Wind Farm to Mutton Bird Island. Please be as detailed as possible to help us appropriately identify and address the issue.