About Nannup Tank 7 Mountain Bike Park
Nannup is rough, rocky and raw. The trails are located in pine forest with steep terrain providing adventure and are challenging for riders. The trails range from Green - Easy to Double Black - Extreme. Sight rides are recommended on the trails ride within your ability level and mountain bike experience.  
Getting There:
Nannup is just over 3 hours drive south of Perth in the Southern Forests region. You can access the trails from town on the sealed Town to Tank trail or you can drive to the trailhead. 
There are two main trailheads Weitj (Emu) Trailhead (Tank 8 trails) and Tank 7 Trailhead in the mountain bike park.
Access: 
Personal: shuttles are able to operate at Tank 7 trails only, access is via Lindsay Road to the Tank 7 Lookout.
Commercial: The western trails are accessed by riders riding the climbing trails or commercial shuttles only.
No private vehicles are allowed to operate in the Nannup Tank 7 Mountain Bike Park, this is for risk management reasons. 
Please respect private property owners surrounding the mountain bike park.
Note: The Trails are located at Tank 7 and Tank 8, the name Nannup Tank 7 Mountain Bike Park encompasses all trails.
Motorbikes are prohibited at Tank 7.
Navigating
Secondary Trailheads provide You Are Here location maps and outline trails available from these locations. Online maps using the Experience Nannup app (Android and Apple) provide a GPS location without mobile phone service and up to date trails information.
Safety and Facilities
The weather can range from hot summers to cool cold winters. Dress for the weather and carry water, snacks/food, a mobile phone and ride with a partner/buddy. 
Fresh water and toilets are available at
Marinko Tomas Park
Nannup Town Hall
Shire of Nannup offices (toilets) in town.
There are bike wash and toilet facilities at the Nannup Foreshore Park.
 
Stay
Accommodation and food is available in Nannup. Go online or drop into the Nannup Visitor Centre in town. There is a local bike mechanic and mountain bike hire available.
The Munda Biddi Trail winds through Nannup going south to Albany or north to Perth.
Can't find something you're looking for?
Our Explore Map tool provides a lot of detail and filters to help explorers find the best and most suitable trails. Head on over to our Explore Map for greater search capacity.
Supported by great organisations
Trails are free and bring so many benefits to our community by providing opportunities to have fun, get fit, socialise, explore and challenge yourself. But they also have to be managed and maintained which only is made possible through terrific sponsors, donations and/or volunteering.

Nannup Tank 7 Mountain Bike Park
Just cruising
Rider Sharon McBride
Sweeping round the curves
Rider Rod Annear
Cheap Thrills trail motif
Taking in the view
Riders Emily Mountford and Tanya Bailey
Entering the rocky section
Rider Peter Smythe
Riding down the rock face
Rider David Du Plessis
The Green Mile trail motif
Enjoying the ride
Rider Sharon McBride
Hitting the table top
Rider Tanya Bailey
Descending through the pines
Corkscrew berms
Rider Peter Smythe
Launching
Rider David Du Plessis
Air time
Rider Mark Hudson
Multi use trail connecting town & Nannup Tank 7 Mountain Bike Park
Rider Nicole Botica
About to choose the high or low line on The Local
Rider David Du Plessis
Big drop off
Rider Mitch Monotti
Putting the hammer down
Rider Craig Stallard
Not Much Room trail motif
The long climb to Tank 7
Rider Emily Mountford
Looking through
Rider Rod Annear
Alternative line through
Rider Emily Mountford
At the top of Tank 7
Rider Mitch Monotti
Picking the line down through the rock garden
Rider Peter Smythe
Heading down into the valley
Stairway to Seven trail motif
Down through the rock garden
Rider Emily Mountford
Choosing the Double Black line
Rider Mitch Monotti
Rider train
Rider David Du Plessis
Barrelling down around the berm
Rider Craig Stallard
Rolling down the hill
Rider Sharon McBride
Rolling into the finish
Rider Dale Foord
Man Vs Machine trail motif
Sweeping down around the curve
Rider Tanya Bailey
Steep down – rock garden
Rider Emily Mountford
Perspective out across the valley
This is a big trail
Rider David Du Plessis
Down over the rock armour
Rider Mitch Monotti
Jumping the filter at the entry
Rider Tanya Bailey
Slippery Gypsy trail motif
Climbing
Rider Dale Foord
Aerial shot through the young pines
Double Black line view
Rider Mitch Monotti
Through the big line of berms
Rider Mitch Monotti
Train in operation
Riders Mitch Monotti, Peter Smythe & David Du Plessis
Pushing it
Rider Peter Smythe
Training Wheels trail motif
Double Black line option
Rider Mitch Monotti
Dropping in
Rider Mitch Monotti
Eyes looking ahead
Rider Sharon McBride
On the move, about to head down
Rider Cale Hawley
Hitting it big time
Rider David Du Plessis
Alternative line through the gap
Rider David Du Plessis
Sweeping through the bends
Riders Mitch Monotti and Heath Dobson
About to run out the rock garden
Rider Heath Dobson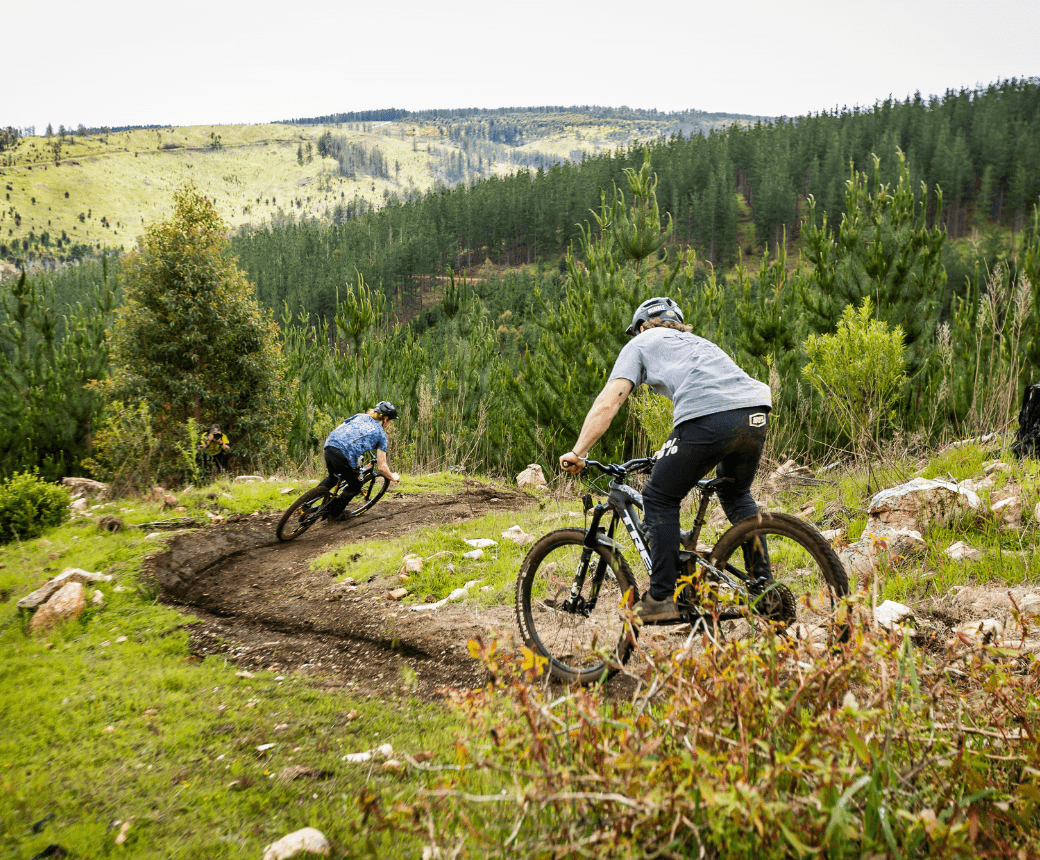 Spectacular view out across the valley
Riders Mitch Monotti and Heath Dobson
Fade To Black trail motif
Sweeping down through the pines
Rider Craig Stallard
Going in
Rider Mark Hudson
Ramping it up
Rider Peter Smythe
View 87 Photos of Nannup Tank 7 Mountain Bike Park